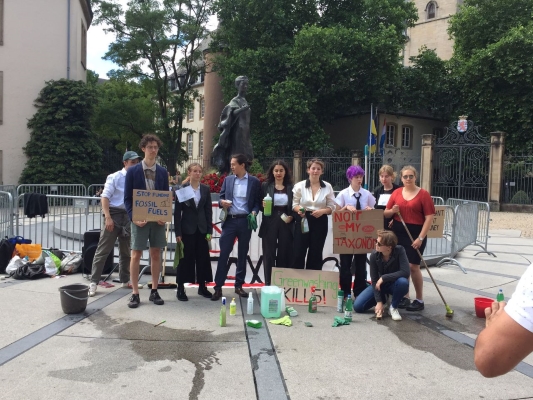 Credit: YFCL
Youth for Climate Luxembourg (YFCL) has organised an anti-greenwashing protest in Place de Clairefontaine in Luxembourg-Ville on Saturday 25 June 2022 at 12:00, in expectation to be heard from the Members of European Parliament (MEPs) who will have the final say during the plenary session in July 2022.
On this occasion, YFCL dressed up as the European Commission politicians, fossil fuels lobbyists and other big players responsible for the classifications of fossil fuels as "sustainable" within the European Union (EU) Taxonomy, in anticipation of the final European Parliament vote in July.
Having officially entered into force on 12 July 2020, the European Commission's long-awaited EU Taxonomy is designed to serve as a financial classification tool, informing private sectors and governments on which activities are deemed sustainable, and therefore encouraged. As YFCL explained, it was created to support the transformation of European economies within the objectives set by the European Green Deal, namely the goal of being carbon-neutral by 2050.
"Not my Taxonomy" and "Vote NO" were shouted by the participants on Saturday at the Place de Clairefontaine.