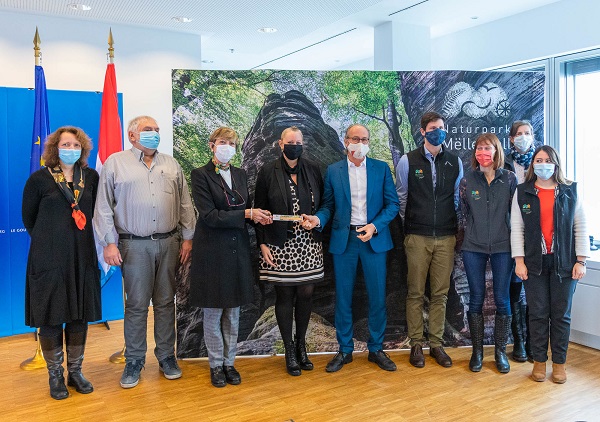 Simone Beck, President of Luxembourg Commission for Cooperation with UNESCO, Environment Minister Carole Dieschbourg and Claude Turmes, Minister for Spatial Planning, surrounded by the Natur- & Geopark Mëllerdall team; Credit: MEA, DATer
On Monday 23 November 2020, Luxembourg's authorities announced the presentation of the candidacy of the Natur- & Geopark Mëllerdall (NGPM) to the international network of UNESCO Global Geoparks.
The announcement took place in the presence of Luxembourg's Minister for Spatial Planning, Claude Turmes, and the Minister of the Environment, Climate and Sustainable Development, Carole Dieschbourg, as well as the President of the Luxembourg Commission for Cooperation with UNESCO, Simone Beck.
UNESCO already attested to the region's potential and its remarkable geological heritage at the international level when the NGPM presented its first application in 2017. Following this, all the parties concerned agreed from the outset that it would be necessary to resubmit an application later. This has now been carried out, after intensive work aimed at improving the points criticised.
The UNESCO Global Geoparks are regions rich in sites and landscapes of international geological scope, whose value is appreciable thanks to a global concept of education, protection and sustainable development. They work for the inhabitatnts and municipalities of their region, make the value of the geological heritage better known to the local population and thus create an identification with the region. They encourage geotourism and regional development and they meet the challenges of modern society such as questions linked to planetary change. The NGPM with its various services is considered to be well-integrated in this concept. Like the UNESCO Global Geoparks, the NGTM pursues the global objectives of sustainable development.
Thanks to this label, knowledge of the Mullerthal region will reach a larger public, also at the international level. Indeed, the UNESCO Global Geoparks are grouped into an international network. Regular network meetings allow intensive exchange, research of ideas and learning from each other.
Minister Claude Turmes noted that the application for this label "embodies the territorial vision of spatial planning in the Mullerthal region".
Minister Carole Dieschbourg added: "There is no doubt that the concept of this nomination will help to implement sustainable development in this beautiful and unique rural region".
The application, which consists of approximately 50 pages, has now been submitted. UNESCO will first verify the application, after which two experts from UNESCO Global Geoparks will visit the region and evaluate it in spring / summer 2021. The decision will be made in spring 2022.