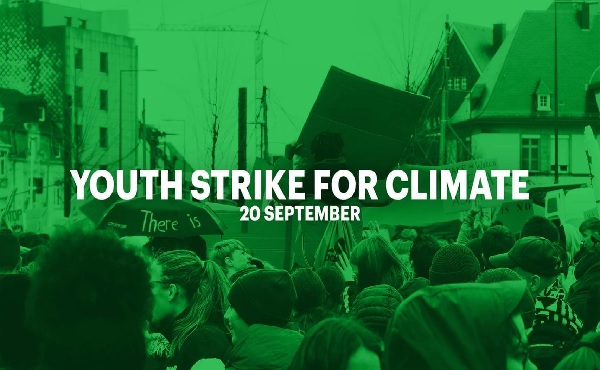 Credit: YFCL
Youth for Climate Luxembourg (YFCL) has announced that it will be organising another "Youth Strike for Climate" today as part of a global wave of protests; students are asked to leave school as early as 10:00 in order to gather at the Luxembourg railway station (Gare) at 11:00.
Zohra Barthelemy, who has been active in the youth movement since February, explained: "On 20 September, Luxembourg's youth, as part of the "Fridays for Future" (FFF) movement, will take to the streets to show once again clearly that we can not remain silent when our own future is at stake".
Participants will meet in front of the Gare at 11:00 before walking together to the Kinnekswiss park, where there will be speeches and music. The protest will once again offer young people a platform from which they can express their disagreement with the inefficiency of current measures related to the climate crisis.
Over the summer, YFCL took part in various networking sessions and meetings between climate activists to work together on future national and international events. Zohra Barthelemy explained: "This crisis is too great for a country to act alone; international cooperation is absolutely necessary. Youth is an example to follow for politics because we show that it is possible to work well together despite multiple cultural differences".
Indeed, today's protest marks the start of a week of activities (20-27 September) in Luxembourg on the subject of the climate crisis, organised by the YFCL together with other organisations. These events form part of a series of global campaigns and demonstrations. Another protest is planned for next Friday 27 September 2019.
Whilst Luxembourg's Ministry of Education, Children and Youth initially stated that all absences from school on Friday would be considered unexcused, it has since clarified that any student wishing to take part in these protests will be excused upon presentation of a letter of consent from their parents or guardians. This changed stance resulted from a meeting between the ministry and representatives of YFCL on Thursday.