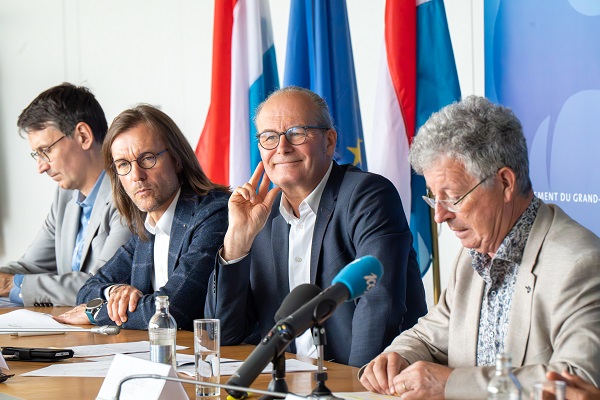 (L-R) Marc Wagener, Chief Operating Officer of the Chamber of Commerce ; Alexander Kieffer, Vice-President of the Chamber of Commerce ; Claude Turmes, Luxembourg Minister of Energy; Emile Eicher, president of Syvicol; Credit: MEA
On Thursday 27 April 2023, the Luxembourg Minister of Energy, Claude Turmes, together with the president of Syvicol, Emile Eicher, the Vice-President of the Luxembourg Chamber of Commerce, Alexander Kieffer, the Chief Operating Officer of the Luxembourg Chamber of Commerce, Marc Wagener, and the Director of the Klima-Agence, Fenn Faber, presented an overview of the national campaign to reduce energy consumption, "Zesumme spueren - Zummenhalen" (saving together – sticking together).

To cope with the reduction in Russian gas supplies, EU member states had agreed on a voluntary 15% reduction in natural gas demand over the reference period from 1 August 2022 to 31 March 2023. Overall, Luxembourg has reduced this by 26.3% so far.

Minister Turmes was pleased at Luxembourg's contribution to joint EU efforts: "I would like to thank everyone involved for this result, which is the result of a collective effort. Luxembourg has shown great solidarity and a great deal of agility, and this at all levels: State, municipalities, companies and citizens. We reacted quickly and managed to find solutions. In a short time, we worked flexibly and creatively and succeeded in achieving our goal: to guarantee our security of energy supply throughout the winter."
In order to prepare for next winter and to guarantee the security of supply in the EU, the renewal for one year of the measure aimed at the voluntary reduction of 15% in the demand for natural gas has been decided at European level.
Minister Turmes said: "Thanks to our energy saving efforts throughout the past winter, our starting position is now better for next winter, with relatively high gas reserve filling levels for the season. Nevertheless, vigilance is still required and we must all continue to make efforts to save energy throughout the summer. The government will continue to monitor the situation continuously."
Luxembourg's Ministry of Energy and Spatial Planning also reported it will continue to publish the results of efforts to reduce gas consumption until the end of March 2024.
The European target of reducing electricity demand peaks by 5% from December 2022 to March 2023 was also exceeded in Luxembourg: on average, electricity demand peaks were reduced by 6.19%.