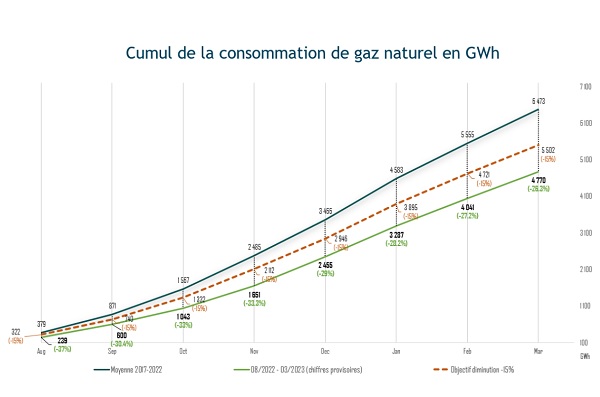 Cumulative natural gas consumption in GWh; Credit: Ministry of Energy & Spatial Planning
On Tuesday 4 April 2023, Luxembourg's Ministry of Energy and Spatial Planning published the results of efforts to reduce natural gas consumption in the Grand Duchy between 1 August 2022 and 31 March 2023.
This target forms part of the European Union's (EU) voluntary target for member states to reduce their natural gas consumption by 15% compared to the reference period from 2017 to 2022. On Tuesday 28 March 2023, EU energy ministers approved the one-year extension of the emergency gas savings regulation, which will continue until 31 March 2024.
In March 2023, Luxembourg reduced its natural gas consumption by about 20.5% compared to this reference period. The Grand Duchy's overall reduction in natural gas consumption was 26.3%.
Luxembourg has also continued to reduce its electricity consumption since June 2022. In March 2023, this decrease was 4.09% compared to the 2017 to 2022 reference period.