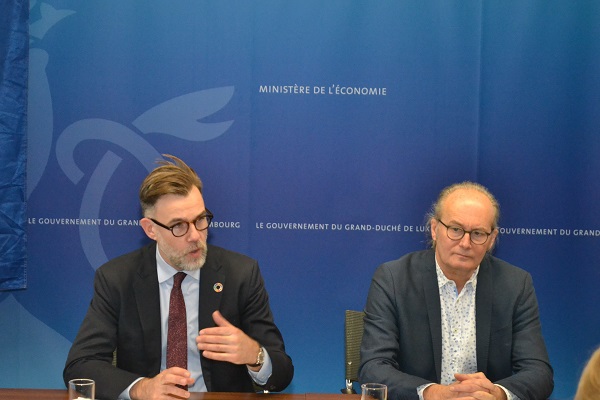 L-R: Franz Fayot, Luxembourg's Minister of the Economy; Claude Turmes, Luxembourg's Minister for Energy; Credit: MECO
Luxembourgish company SOCOM will launch a joint venture with Belgian company Evocells to start manufacturing photovoltaic panels in the Grand Duchy.
A specialist in the fields of electrical and mechanical engineering, energy and communications networks in Luxembourg, SOCOM currently employs 1,200 people and has its head office in Foetz.
During a press conference on Tuesday 11 January 2023, Luxembourg's Minister of the Economy, Franz Fayot, and the Minister for Energy, Claude Turmes, together with SOCOM's managers, presented the group's investment project to produce photovoltaic panels in Luxembourg.
SOCOM will launch the joint venture Solarcells SA with Evocells to start manufacturing photovoltaic panels in Luxembourg. In a first phase, nearly 100,000 panels (ie 50MW in real capacity) will be produced each year in Luxembourg-Hollerich on the former site of the tobacco company Heintz Van Landewyck, thus creating more than 20 direct jobs. The production line will be installed at the end of 2023. There are also plans to double the production capacity by 2026.
This partnership with Evocells, a pioneer in Belgian photovoltaics, is expected to allow SOCOM, which is already active in the fields of renewable energy and energy transition, to diversify into a new activity, while developing synergies to optimise production and the development of photovoltaic panels, in particular by consolidating purchases of raw materials and securing supplies.
Economy Minister Franz Fayot said: "SOCOM's project is in line with our strategy which aims to encourage companies already established in Luxembourg to develop their activities in order to ensure both economic development sustainability and the technological and environmental transition of our entrepreneurial fabric. Benefiting from the policy of encouraging investments implemented by the Ministry of the Economy in favour of this double transition, several flagships of Luxembourg industry, such as Guardian or ArcelorMittal, have announced since 2018, despite the multiple crises, investments in the modernisation and extension of their production tools for a total of more than €1 billion."
Energy Minister Claude Turmes stated: "Solar energy is booming in Luxembourg: today we already occupy fourth place at European level in terms of photovoltaic power per inhabitant. This source of energy is not only clean and helps the Grand Duchy to achieve its renewable energy development objectives, but it is also produced locally and is part of the solutions for breaking dependence on Russian fossil fuels. The SOCOM project, which aims to produce photovoltaic panels on national territory, helps us to strengthen this independence: from the production of panels to the production of solar energy, the local energy transition is accelerated."
Marc Thein, Chairman of the SOCOM Management Committee, added: "Everyone must take responsibility for moving faster in the energy transition and helping the government achieve the objectives imposed. The lack of products and equipment should not slow down the dynamic. It is easier to produce locally in order to be less dependent on the supply of components and deliveries from the other side of the world."