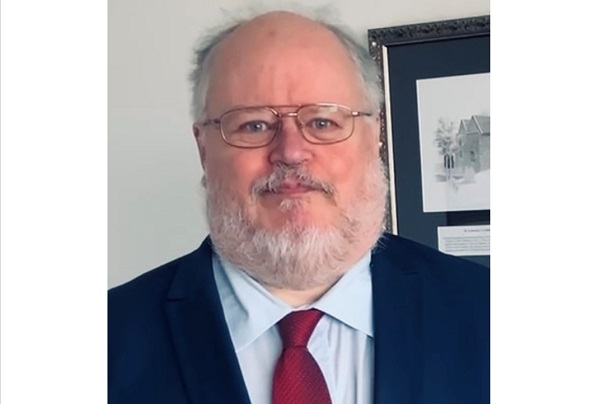 Ireland's Ambassador to Luxembourg, Stephen Dawson; Credit: Embassy of Ireland in Luxembourg
Monday 20 December 2021 marked the 60th anniversary of formal diplomatic relations between Luxembourg and Ireland.
In an interview with Chronicle.lu, the Irish Ambassador to Luxembourg, Stephen Dawson, reflected on these relations over the past six decades and looked to the future of the Irish-Luxembourg relationship.
Ireland and Luxembourg "on the same page"
Regarding areas in which these two countries are truly united, Ambassador Dawson stated: "Ireland and Luxembourg have a very similar outlook on international relations, we are both on the same page, as it were. We are smaller states, whose historical experience includes occupation or threats to our independence by larger neighbours. So both Ireland and Luxembourg place great importance on the multilateral approach to dealing with problems, on the rule of law, and on the peaceful settlement of differences and disputes. This is evident especially in our activities in the EU and the UN, but also elsewhere".
"And I would say that we both also believe strongly that smaller states must be prepared to play their part in that international system, to the extent their resources allow. You can't complain that the bigger states run everything if you leave them to do all the heavy lifting. This is shown in Ireland's current term on the UN Security Council, and by Luxembourg's recent term on the Council and current membership of the UN Human Rights Council", he continued.
"I would say also that before I ever came here, in my work as an Irish diplomat, I was aware of Luxembourg as a 'like-minded' state, as we say, with whom we could often cooperate. Several times in my previous job in the Middle East Unit of the Foreign Ministry in Dublin, I saw our two countries and our Ministers cooperate closely at international level to push forward something we wanted to do, or resist something we didn't. Luxembourg would have been one of the first countries I would have thought of as a potential ally".
A Luxembourg Embassy in Ireland
Concerning the significance of setting up a Luxembourgish Embassy in Dublin next year, he recalled that this was "more of a question for the Luxembourg Foreign Ministry", but, reflecting on his own position in the Grand Duchy, he explained: "Embassies perform a wide variety of functions - direct government to government relations, support to our local community and assistance to citizens in distress, help to business if needed, and general promotion of the country through cultural and other activities".
He continued: "Luxembourg has been well served in Ireland by its Embassy in London and its Honorary Consul in Dublin, but there is no substitute for actually having people on the ground, all the time. Just like here in Luxembourg, a resident Embassy and Ambassador will move in the fairly small circles of decision makers, getting to know people and the domestic environment that shapes a country's actions. And also giving Irish people - in this case - more of a direct idea of Luxembourg and Luxembourgers. A resident Embassy can advance all these things more consistently and coherently".
"Ten years ago, during the financial crisis, the Department of Foreign Affairs in Ireland, like all branches of government, had to severely cut its spending. There was a serious debate about whether we should close some of the smaller Embassies in Europe, and cover several countries from one mission. In the end the decision was taken to keep a resident Embassy in each EU partner. And only a few years later we realised how wise that decision had been, when we needed very urgently to sensitise our EU partners to how important Brexit was for Ireland, and the huge impact it could have on both our economy and the situation in Northern Ireland. In politics or in business, direct contact is always the most effective".
He also recalled his meeting with Florence Ensch, Luxembourg's new Ambassador to Ireland, who presented her credentials to Ireland's President Michael D. Higgins in November 2021 and "is now preparing to open the Embassy next year". He described Ambassador Ensch as "very enthusiastic about her new post", adding that she "will make a great success of it". He continued: "She knows Ireland, having studied at Trinity College Dublin (in fact we both did the same degree there, but at different times)".
The Irish Ambassador concluded: "Luxembourg naturally has a small foreign ministry and Embassy network, but has a high reputation for the quality of its diplomats around the world".
Looking forward
As for the future of Irish-Luxembourg relations, Ambassador Dawson stated: "I think they will continue very to be very close, and to improve. The new Embassy can only help in that".
He added: "More of our people are coming to work and live in the other country, including Luxembourgers in Ireland. And we will continue to find each other a natural ally on so many fronts. And there isn't really anything working the other way - nothing which divides us".
On the subject of events being organised by the Irish Embassy in Luxembourg and the impact of the COVID-19 pandemic, Ambassador Dawson noted that "it has been a long and difficult pandemic, for all of us". He recalled how the Embassy had had to cancel its St Patrick's Day celebrations both last year and this year. " I suppose we were unlucky in having our national day in March, as we were one of the first to have to cancel in 2020", he said.
The Irish Ambassador continued: "We had been planning for some time to have a small Irish community reception in the Embassy in December, just last week in fact, but we had to abandon those plans at the start of this month".
"Now we are looking ahead to St Patrick's Day. I would very much like to hope that we will be able to go ahead, and invite our community and friends of Ireland to get together once again", he said. "But it doesn't look too good at the moment, if people are expecting Omicron to peak in February. Normally we would have to be preparing the event from late January, and that may be difficult to foresee".
Despite the challenges related to COVID-19, Ambassador Dawson ended the interview on a positive note, saying: "But hope springs eternal. We will put all this behind us before too long".