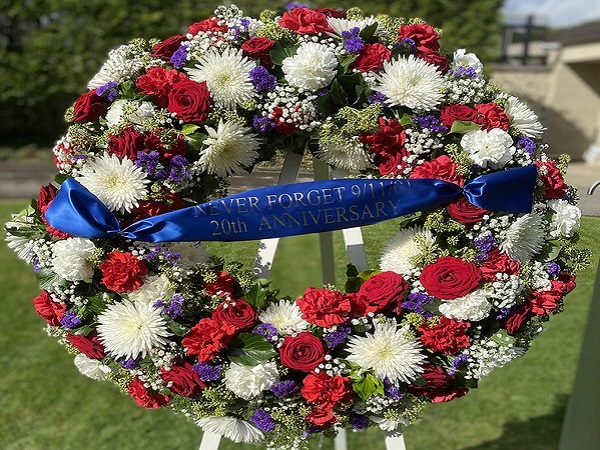 Credit: US Embassy Luxembourg
On Saturday, the United States Embassy Luxembourg commemorated the 20th anniversary of the September 11 attacks.
Chargé d'Affaires Casey Mace hosted a commemorative event at the US Embassy Luxembourg on the occasion of the 20th anniversary of the 9/11 terrorist attacks.
Chargé Mace, along with Luxembourg's Deputy Prime Minister and Minister of Defence, François Bausch, and the President of the Chamber of Deputies, Fernand Etgen, gave remarks at this event. They were joined by US Army Colonel Edward Dupont, Anne Mace and Catie Dupont in presenting a wreath, followed by a moment of silence and taps. The audience included representatives from Luxembourg's first responder and military community as well as US Embassy staff, families and Marine Guard.
"Today, we all come together for an important reason, to mark the 20th anniversary of the 9/11 attacks, and mourn the nearly 3,000 lives taken too soon. Tuesday, September 11, 2001 was a day that changed all of our lives forever. For all of us who lived through the horrific events of that day, we will never forget", noted Chargé Mace. "We honour their lives and their memory on this solemn occasion and mourn what we all lost on that terrible day. We will also remember that what took place next was more remarkable than the damage inflicted. We will remember the countless selfless acts by thousands of brave policemen, firemen, nurses, doctors, soldiers and volunteers who risked their own lives to save fellow citizens, colleagues, and strangers. We will remember the amazing selflessness and generosity of Americans from around the world to donate money, clothing and shelter, and time, to care for the injured and those left behind, those who lost parents, those who lost brothers and sisters, and those who lost their children. We will remember the support from allies, such as Luxembourg, which observed a week of national mourning as a sign of compassion and solidarity for the American people, flying Luxembourg flags at half mast, and holding a formal public session to pay tribute to the victims of the terrorist attacks".
"We remain grateful to Luxembourg, for standing with us at our most difficult moment 20 years ago, and in all the years since. Our commitment to you remains just as unshakable", he continued, before concluding: "Today we mourn the loss of life on 9/11 and the ensuing years, remember the special gift each of those lives were to loved ones and a grateful country, and hold dear our enduring and shared values that terrorists will never extinguish".