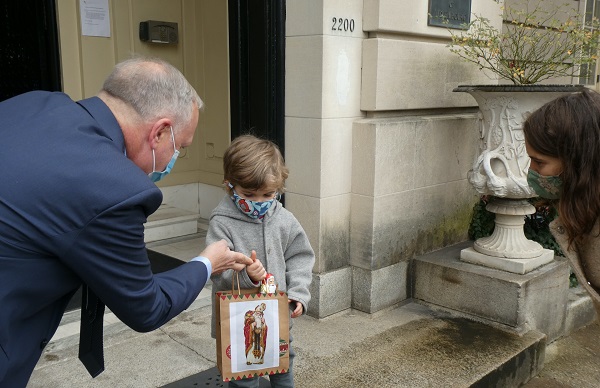 Consul Stan Myck hands out goody bags; Credit: C. Naseer Ahmad / Luxembourg Embassy in Washington D.C.
The Luxembourg Embassy in Washington DC celebrated Saint Nicholas Day differently this year: with a drive-by party for children, to ensure social distancing in the context of the COVID-19 pandemic.
In years past, Christmas time was special at the Luxembourg Embassy in Washington, especially with the official year end parties as well as co-sponsored concerts with the Embassy Series. This year was different, however, with the coronavirus pandemic severely impacting the year end celebratory events in Washington and elsewhere around the world.
The pandemic has impacted children in a big way. They are quite vulnerable and in their formative years, they are deprived of many things that are part of growing up. Keeping children's well-being and happiness in mind, the Luxembourg Embassy in Washington came up with a creative way to celebrate Saint Nicholas Day.
Elisabeth Herndler, Social Secretary of Cultural Affairs at the Luxembourg Embassy in Washington DC, commented: "We do not have an in-person event – so we decided to prepare goody bags for the kids in the area and parents either came to the Embassy for pick-up or we delivered to their homes".
Consul Stanislaus "Stan" Jean Myck handed out the goodies to children. Before coming to Washington, Consul Myck worked in the Directorate of Protocol, Ministry of Foreign and European Affairs in Luxembourg. In other previous assignments, he also worked in Lisbon in Portugal, at the Permanent Mission of Luxembourg to the United Nations in New York and at the Embassy of Luxembourg in Vienna in Austria.
Annick Genson was among the parents to drive to the embassy with her two children, Limu (6) and Shema (4), to pick up the goody bags. Describing her background, Ms Genson said: "So I myself grew up in Bettembourg, Luxembourg but have been living in many different countries around the world for the past ten years due to my husband's and my job in the humanitarian field. The boys were born in Luxembourg, speak Luxembourgish with me at home and we keep up all the Luxembourgish traditions and go to Luxembourg to visit family. As a family we have been living in Rwanda, Lebanon, Luxembourg and now Washington DC, where we arrived exactly 1.5 years ago. And are staying for another 1.5 years before moving to the next place".
The embassy recalled that, like all friends of Luxembourg and those with familial ties to the Grand Duchy, there are stories to share, especially during Christmas time.