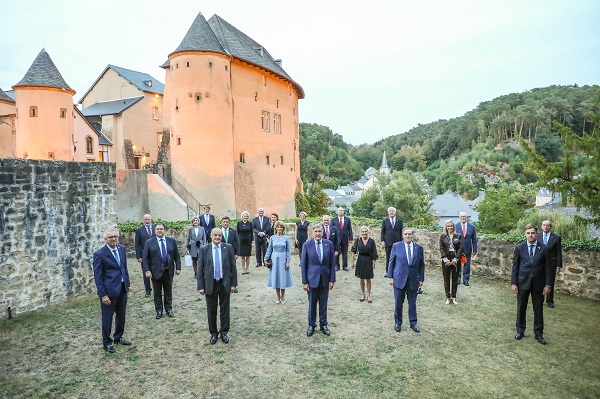 Credit: SIP / Luc Deflorenne
On Wednesday 23 September 2020, Luxembourg's Deputy Prime Minister and Minister of Defence, François Bausch, Minister of Finance, Pierre Gramegna, and Minister of the Economy, Franz Fayot, received at Bourglinster Castle a delegation of United States (US) ambassadors who are posted to Europe.
The meeting enabled an exchange of views on relations between Luxembourg and the US, particularly in the fields of defence, financial services, trade and the space sector. The delegation was visiting the Grand Duchy on Tuesday and Wednesday for working meetings with representatives of Luxembourg ministries and European institutions.
Defence Minister François Bausch stated: "I think that defence today faces an increasingly wide range of threats: traditional military threats, terrorism to a certain extent - this is why my country is deploying troops in Mali in Africa -, cybersecurity, environmental threats such as climate change which will shape defence over the coming decades, and pandemics as we have just seen".
Finance Minister Pierre Gramegna commented: "Luxembourg and the United States are long-standing partners who have worked together for many decades to increase prosperity through trade and commerce. Our two countries have important relationships in the area of ​​financial services. [...] Luxembourg is today a trusted partner of the United States, in particular for banks, insurers, US asset managers and FinTech companies wishing to serve the EU market. With Ambassador Evans and US Ambassadors from across Europe, we had excellent discussions on how we can further strengthen our relationship".
Economy Minister Franz Fayot added: "Luxembourg attaches great importance to its economic, political, academic and cultural relations with the United States. Our two countries share a common history, as well as a common present and future".
US Ambassador J. Randolph Evans concluded: "Ministers Bausch, Gramegna and Fayot are important partners in promoting relations between Luxembourg and the United States. Minister Gramegna has helped to strengthen our financial ties through recent initiatives such as the ratification of the Protocol to the Tax Convention. Minister Fayot has actively developed our relations in the space sector, among other promising areas of economic growth. Deputy Prime Minister Bausch is also an important partner. I am thinking in particular of the launch of a working group on defence in space, trips to see his counterparts in Washington DC, the extension of Luxembourg's support to the US Air Force warehouse in Sanem and the establishment of a new public bus service to the American cemetery in Luxembourg. It is an honour to be welcomed by these great friends and partners and to be joined by many other leaders of the American and Luxembourg governments".