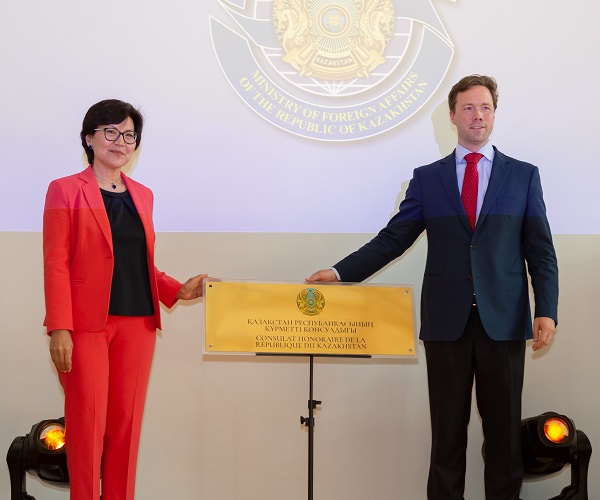 Opening of Kazakhstan Consulate in Luxembourg; Credit: Vio Dudau
On Sunday 12 May 2019, the Honorary Consulate of the Republic of Kazakhstan in Luxembourg was officially inaugurated at a ceremony at the Scheiss Cultural Centre in Val-Ste-Croix.
In front of an invited audience of around 80 people, including Luxembourg's Prime Minister, Xavier Bettel, and the Ambassador of Kazakhstan to Belgium and Luxembourg, Her Excellency Mrs. Aigul Kuspan, a ribbon-cutting ceremony was held and a brass plaque was also unveiled.
The ceremony was held during the 5th anniversary celebration of the presence in Luxembourg of the headquarters of Eurasian Resources Group, the CEO of which (Benedikt Sobotka) was appointed as Honorary Consul of Kazakhstan in Luxembourg on 17 January 2019. On Sunday he was presented with a traditional robe which he donned to great applause from the audience.
The speeches were delivered in English, French and Russian. The Chairman of the Board of Directors of Eurasian Resources Group, Dr Alexander Machkevitch, recalled the Eurasian Resources Group starting 25 years ago in Kazakhstan in the business of industrial commodities, and also the Eurasian Resources Group establishing itself and opening its headquarters in Luxembourg five years ago.
He described Luxembourg as "One of the best places for people who have wonderful conditions to live and make business" and thanked the government of Luxembourg which was very supportive in helping Eurasian Resources Group set up in Luxembourg. Eurasian Resources Group is the largest company in Luxembourg from Kazakhstan.
He added "We are really happy to be here in this wonderful country and hope that Eurasian Resources Group and Luxembourg will continue to thrive together".
Luxembourg's Prime Minister, Xavier Bettel, stated "it is wonderful to be here to help celebrate Eurasian Resources Group's 5th anniversary in Luxembourg." He recalled that Kazakhstan was one of the first countries to welcome him when he became Prime Minister and referred to the opening of the Honorary Consulate of Luxembourg in Kazakhstan. He thanked Kazakhstan for trust shown in Luxembourg and acknowledged the differences between the two countries as well as what they have in common, including Kazakhstand being much larger, and referred to building bridges together.
Benedikt Sobotka, CEO at Eurasian Resources Group, stated that, when you come as a large corporation, as an investor, you are welcomed with open arms in Luxembourg. He said that large corporations are made to feel at home here. He also referred to building bridges, between people and using culture to help do this. He said that his job is also to make people in Luxembourg be aware of Kazakhstan and invited everyone present to visit the country.
Ambassador Aigul Kuspan spoke in French and referred to the opening of the Luxembourg Consulate in Kazakhstan which marked an important moment in relations between the two countries. She also referred to the economic and cultural mission of Luxembourg to Kazakhstan, and recalled that both PM Bettel and Luxembourg's Deputy Prime Minister and Minister for the Economy, Etienne Schneider, have been twice to Kazakhstan. She concluded by describing the success of Eurasian Resources Group as impressive.
The event formalities were followed by performances of musicians from Kazakhstan and Luxembourg (Julia Belova) and a cocktail reception with Kazakh and European cuisine.