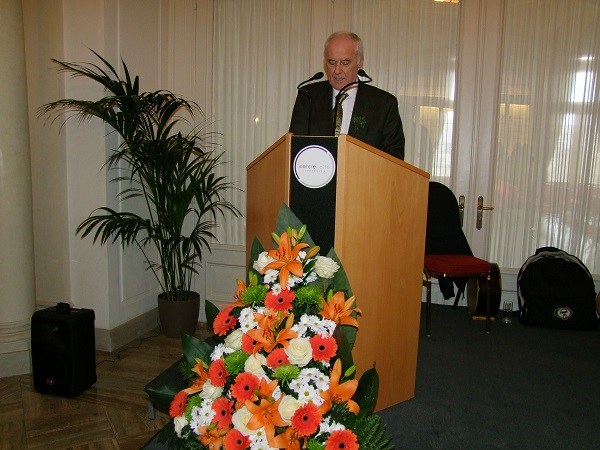 On Tuesday 16 March, the Ambassador of Ireland to Luxembourg, Peadar Carpenter, held a reception to celebrate St Patrick's Day, Ireland's national day, at the Cercle Cité in Luxembourg city centre at midday.
In attendance were members of the diplomatic corps, including the Ambassadors of Britain, The Netherlands and Poland, the former Prime Minister of Luxembourg, Jacques Santer, a number of sitting Members of Parliament, as well as members of the Irish community in Luxembourg and Friends of Ireland in the business sector.
Over 200 people attended the annual event at which musicians from the Luxembourg branch of Comhhaltas Ceolteoiri Eireann entertained those attending while Ambassador Carpenter and his wife welcomed the guests. Following the playing of both the Irish and Luxembourgish national anthems, Ambassador Carpenter spoke, giving a brief history of the life of St Patrick who brought Christianity to Ireland, and explaining that the day is both a religious and cultural day in Ireland. The Irish are very proud of their national day, the celebration of which started long before gaining independence. He also presented a brief history of the country in which the population continued to decline until 1972.
In reference to upcoming events, Amb Carpenter referred to the celebration from independence from Britain in 1916 and stated that the forthcoming 1916 Centenary Commemorations will include a hurling and camoige tournament, a lecture and the screening of a film. In common with Luxembourg, he said it is very important to educate and inform, and that it is important to look both forward and back.
About the Irish economy, he stated that 40% of the population is aged under 29 years, the youngest population in the EU, and that Ireland has a very strong education system. The country recorded a growth of 7.8% of GDP last year, the highest in the EU, with Agrifood being the largest sector (€10 billion of exports), also services and a huge tourism sector. he two main state agencies, Enterprise Ireland and the Industrial Development Authority (IDA) are working hard to attract new business and investment to Ireland. While the unemployment rate during the recent economic crisis reached 15.3%, it is now back down to 8.7%.
He concluded by referring to the sharmock as a belessing and wished everyone a Happy St Patrick's Day (tomorrow, 17 March).
The event continued with a reception of Irish food and drink.
Photos by Geoff Thompson