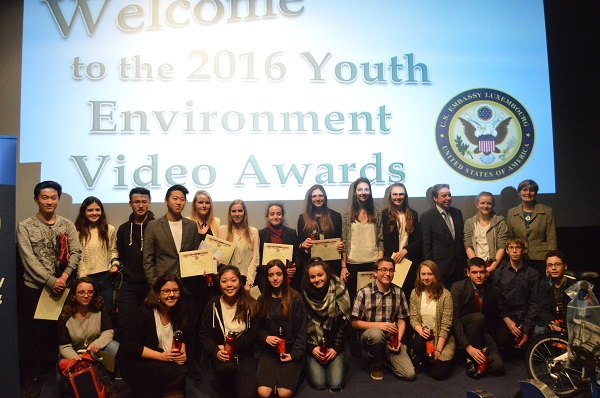 On Thursday evening, the US Embassy held a screening at Utopia of the 15 video clips submitted by high school and university students last November to the 2015 Youth Environment Video Contest.
The Contest was first launched on 6 June 2015, when the US Embassy hosted professors and students from the University of Luxembourg and environmental actors to celebrate the United Nations World Environment Day 2015, held under the theme of 'Seven Billion Dreams. One Planet. Consume with Care'. The day at the Embassy centered around this topic, with Embassy staff taking public transport, walking or biking to work; American and local specialists discussing environmental issues and engaging in a Q&A session with interested students; and each participant receiving a small tree to replant in either a private garden, a forest or at a school as a symbol of their dedication to the environment.
As a continuation of this commitment, students were invited to produce their own short film in which they related their views on environmental concerns in a clear and creative way, to be submitted by the end of November 2015. Overall, 15 video clips were created by a total of 27 13-19 year olds, with some students choosing to join forces and work as a group and others opting to go it solo and produce a personal piece.
The projects revealed a wide range of issues and inspirations, with topics from deforestation to plastic consumption and pollution all highlighted in a creative way. In the end, Francesca van Marion, Lea Muller and Lorena Tornambé from the Lycée Aline Mayrisch scooped 1st Prize for their video dedicated to water consumption and its effect on the planet and how small steps can be taken towards reducing it. The three 17-year-olds each received a folding bike and a water bottle for their efforts.
2nd and 3rd Prize of a scooter went to 14-year-old Mara Erang from Lycée de Garçons Luxembourg and 16-year-old Ionna Bagia from St George's International School, respectively; 4th Prize went to Lycée Aline Mayrisch Luxembourg students Edgar Antunes, Christophe Zanier and Capucine Lentze, who each won a voucher to Saturn; whilst Helena Sofia Monteiro Abrantes, Kevin Hang and Joana Soares Valente of the Lycée Robert Schuman claimed 5th prize and each received a backpack.
"We were pleased by how much time and energy students took in the making of these videos," announced U.S. Embassy Chargé d'Affaires, Alison Shorter-Lawrence. "The concepts, design, humour and ideas expressed are wonderful. It makes me feel like the future generation, at least the students in this room, are interested and concerned about climate change and are up to the challenge of finding solutions to the difficult problems we face."
Photos by Sarah Graham