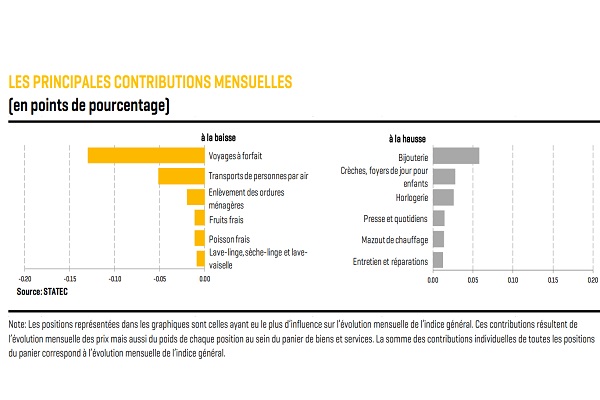 Credit: STATEC
The annual rate of inflation in Luxembourg has stabilised at 0.7%, according to STATEC.
In October 2020, the national consumer price index, calculated by STATEC, dropped just 0.03% compared to the previous month. The prices of petroleum products increased by 0.2% on a monthly basis, while the prices of goods and services excluding petroleum products were stagnant.
After two months of decline, the trend for petroleum products was reversed and oil prices went up 0.2% compared to September 2020. This increase is mainly explained by the increase in the price of heating oil (2.0%) over one month. At the pump, motorists had to pay 0.4% less for a litre of Diesel and 0.1% less for a litre of petrol.
Food prices decreased by 0.3% over one month. On the one hand, price drops for fresh fish (down 4.8%), potatoes (down 4.4%) and fresh fruits (down 1.3%) had an impact on the overall result. On the other hand, prices rose 0.7% for fresh vegetables and 0.2% for bread and cereals. Prices for non-alcoholic drinks rose 0.3% compared to the previous month. In annual comparison, food prices were 3.2% higher compared to October 2019 and 1.1% higher compared to February 2020, the last month before the implementation of the first COVID-19-related containment measures in Luxembourg.
Jewellery and watchmaking items had the greatest impact on the monthly rise. In October 2020, they rose 11.8% from the previous month. Price increases were also recorded for nurseries and day centres for children (up 1.0%) as well as for newspapers (up 2.9%). Conversely, travel costs contributed the most to the decline in October: the prices of package holidays fell 5.7% and those of flights fell 21.5% compared to September 2020. Taxes for several municipalities were also adjusted downwards (down 2.8%).
The annual inflation rate thus remained unchanged at 0.7%. Headline inflation stood at 1.6%. The general index for the month of October expressed in base 100 in 2015 amounted to 106.59 points.
Nevertheless, STATEC projected that inflation would accelerate significantly over the coming months following the introduction of a CO2 tax in January and the dissipation of the downward effect linked to free public transport (introduced in March 2020). In general, the deteriorated economic context should slow down headline inflation. STATEC expects a rate of inflation of 0.9% for 2020 and 1.8% for 2021.