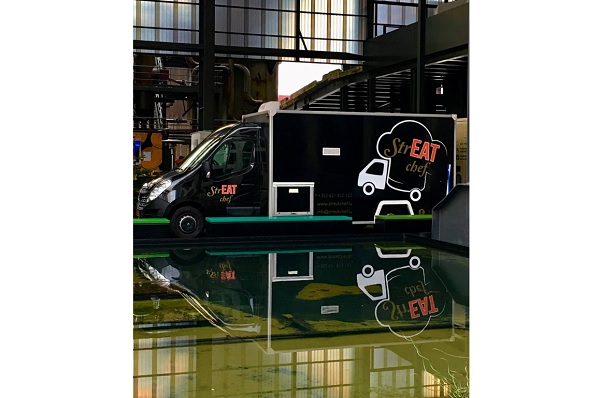 StrEATchef food truck in Esch-Belval; Credit: StrEATchef / Nathalie Bretin
Chronicle.lu recently spoke with Nathalie Bretin, Vice President of the Luxembourg Food Truck Association, to learn about how Luxembourg's food truck industry has evolved over the years, how it has been impacted by the COVID-19 pandemic and how the association sees itself as the pandemic eases.
Nathalie Bretin, who runs an Italian restaurant and the StrEATchef food truck together with her husband, explained that the Luxembourg Food Truck Association was set up almost a decade ago. One of its initial objectives was to present to the public the choice of food trucks that existed in the Grand Duchy. Today, the association also centralises event offers on its internal website, allowing the various food trucks to see where there is demand for their services.
Recently, largely due to the COVID-19 pandemic, the association has shifted its focus from serving food outside company premises (namely during lunchtime) to catering at events, such as birthday parties and now at larger gatherings, which are slowly resuming following the lifting of most COVID-19 restrictions in Luxembourg. Nathalie Bretin lamented that about half of the older or "original" food trucks in Luxembourg went out of business during the pandemic. She explained that the industry had been "booming" before the pandemic, but then offices closed and everything changed "from one day to the other". This was not helped by the fact that the sector had received very little support from the state during the crisis, according to Ms Bretin.
With employees now gradually returning to the office, companies are starting to ask food trucks to come back, but the process is slow. "We need 70 to 80 clients every lunchtime to pay the bills", Nathalie Bretin explained. "Fifteen to 20 people is not enough".
Even in "normal" times, the food truck sector is highly regulated in terms of where food trucks can park and sell food – regulations which were not eased during the pandemic. As Ms Bretin clarified, food trucks are only allowed to set up in the car park of a private individual or company; they cannot park along the road or in a state- or municipality-owned car park. Whilst there are some spots available to rent, for instance from the City of Luxembourg (Ville de Luxembourg – VdL), the food trucks can only stay there for a few months. "It takes six months before clients become regular", explained Ms Bretin. "Two to three months is not good enough".
Regarding the link between food trucks and street food festivals in Luxembourg, Nathalie Bretin described such events as "good fun", although she regretted that recent ones did not have the same atmosphere as pre-pandemic festivals due to limited capacity.
There are currently about fifteen food trucks in Luxembourg, although not all of them are members (yet) of the Luxembourg Food Truck Association. The association is also regularly receiving requests for information on how to open a food truck. Ms Bretin's advice to interested individuals is to "buy an existing truck". She added: "There is always one or two for sale and [you get] the name and the parking spots at lunchtime" – two very important aspects of running a food truck.
Anyone who is looking to open a food truck is invited to contact Nathalie Bretin via email: nathalie@luxfta.lu. She noted that the association is always looking for "new members and new energy".
Ms Bretin concluded: "We are all friends in the association and are always there to help each other. That's not the same in every business!".