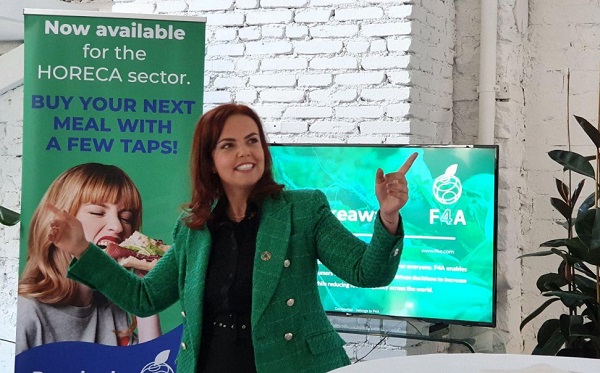 Credit: F4A
Food4All (F4A), a Luxembourg startup specialising in the fight against food waste, has announced the launch of its new takeaway service.
After the major retailers, F4A is tackling food waste in the hospitality sector. Both supermarkets and restaurants account for 12% of food waste in Europe. To tackle the problem head-on, F4A first proposed technological solutions and an application to food distribution chains in Luxembourg. Going one step further, the startup is launching a new service: F4A Takeaway.
From 28 September 2021, the 17,000 users of the F4A app will be able to reserve unsold dishes or products in partner restaurants, cafes, pastry shops, backeries grab-and-go stores and supermarkets.
In addition to being involved in the fight against food waste and benefiting from a positive image with 17,000 potential new customers who are concerned about the environment, the F4A Takeaway partner retailers will be able to increase their income through these additional sales. According to F4A, this is a win-win solution for both the owners of these establishments and the consumers.
F4A users will be able to find out which products / dishes are close to expiry at the new F4A partner establishments. The F4A Takeaway bags (made of recycled paper) will be offered at attractive prices on the app.
Current F4A Takeaway partners: Cocottes (Ban de Gasperich - 20 Rue Charles Darwin, 1433 Luxembourg); Victorine (Gare - 1 Rue de Strasbourg, 2561 Luxembourg); Brasserie Guillaume (Centre - 12 Place Guillaume II, 1648 Luxembourg); L'osteria (Centre - 8 Place Guillaume II, 1648 Luxembourg); Opera restaurant (City - 100 Rue de Rollingergrund, 2440 Luxembourg); EXKI (Centre - 72 Grand-Rue, 1660 Luxembourg; Gare - 11 Rue du Fort Bourbon, 1249 Luxembourg; Kirchberg - 5 Rue Alphonse Weicker, 2721 Luxembourg); Monoprix (Centre - 2 Place Guillaume II, Luxembourg)
Future partners: Kaempff-Kohler (Centre - 10 Rue du Curé, 1368 Luxembourg; Niederanven - 40 Rue G. Lippmann, 6947 Niederanven); Coffee Fellows (Gare - 4 Place de Paris, 2314 Luxembourg); Dean & David (Centre - 29 Bd Franklin Delano Roosevelt, 2450 Luxembourg; Kirchberg - 45 Av. John F. Kennedy, 1855 Luxembourg); Aka Cité (Centre - 3 Rue Genistre, 1623 Luxembourg; reopening in four weeks); Eco Gourmet (Diekirch - Route de Larochette, 9254 Diekirch).