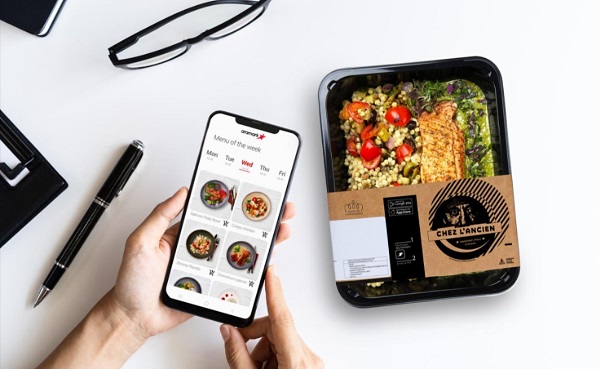 Credit: Aramark
Aramark, a catering services company specialised in catering and vending, has announced that its Luxembourg entity is launching "My Aramark", a new digital catering application that allows companies to activate a delivery point within their premises.
This new app will enable Aramark to deliver freshly prepared meals throughout Luxembourg, even in remote areas. The app includes a new lunch option for employees in the workplace.
To develop this app, Aramark Luxembourg is relying on more than fifteen years of experience with large companies who place their trust in the catering company.
While My Aramark remains similar to traditional meal ordering websites, with a diversified offer of products to be delivered at lunchtime, Aramark's offer on the Luxembourg market stands out in several respects. For instance, the dishes are 100% homemade, concocted by Aramark chefs using fresh and local ingredients. The app presents consumers with details about the different dishes offered.
The app also offers delivery beyond Luxembourg city centre. "We are mainly targeting companies that want to offer their staff a digital catering solution, in particular because they do not have a company restaurant or a substitute solution", explained Didier Bernard, Operational Director Luxembourg for Aramark. "Despite the reopening of the HoReCa terraces on 7 April, it is not always easy for workers to ensure the quality of their food at the workplace. This is why Aramark delivers its corporate meals throughout the Grand Duchy, even in areas far from the city centre".
The catering company does not use any intermediary and takes care of the deliveries itself free of charge. Any order placed before 10:30 is delivered the same day at midday.
In addition, Aramark uses 100% recyclable containers and will generalise its cellulose pulp packaging which is 100% compostable. The company relies fully on local products, having already obtained the official "Made in Luxembourg" label for all its products available for delivery or take away.
Aramark is already working on future evolutions of its My Aramark app. Employers will soon be able to participate in the final price of meals if they wish. Didier Bernard added: "We are also working on the sale of authentic recipes in glass jars, such as lamb shoulder (seven hours of cooking), potato tatin (two hours of cooking) and bolognese sauce (three hours of cooking). These dishes without additives or preservatives will be sterilised to allow a long conservation".
Companies that want to try out Aramark's products can do so through a sampling system. Those wishing to take advantage of sampling or activate a delivery point for their staff can contact Aramark via email: info@aramark.lu or via tel.: 281-17289.