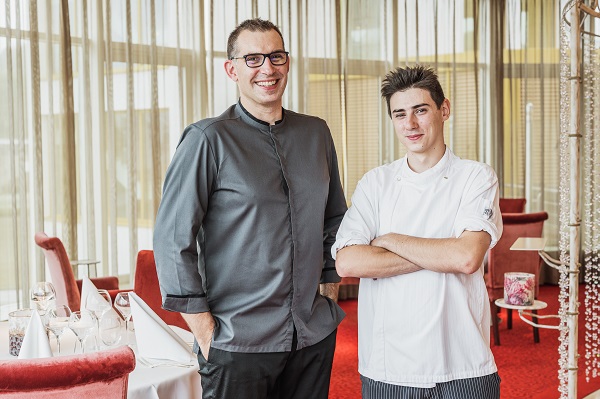 Head Chef François Jagut and Sous-chef Loïck Martinez; Credit: Casino 2000
François Jagut has taken over from Alain Pierron as Head Chef at the restaurant "Les Roses" at Casino2000 in Mondorf-les-Bains.
After more than 20 years at the restaurant "Les Roses", Alain Pierron passed on the baton to his sous-chef François Jagut. Mr Jagut was the former's chef de patrie and then sous-chef for nearly fifteen years before replacing him at the helm of the restaurant's kitchen.
A native of Brittany in France, François Jagut's passion for cooking began at a young age, particularly thanks to his grandmother. After training in a hotel school, it was his internships in major Michelin-starred houses that enabled him to acquire solid experience. Of particular note is the Château de Locguénolé, a Mecca for Breton delicacies, and the Chaîne d'Or, a gourmet restaurant in Normandy. His meeting with Olivier Roellinger and his work with Marc Veyrat, two French starred chefs, greatly inspired him.
On 1 March 2005, François Jagut joined the restaurant "Les Roses", where he has been ever since. On 1 October 2020, he officially became the new executive chef of Les Roses. He chose Loïck Martinez, a passionate 23-year-old chef, to support him as sous-chef. As for cuisine, he combines seafood with Luxembourg classics, from caviar and lobster to Wagyu beef and great scallop (Saint-Jacques), which retains its place on the menu and has become the Chef's Signature Dish.
The traditional Gourmet Dinner will continue to run every Thursday, Sunday and Monday evening, featuring three courses (chosen by the chef), two glasses of wine, water and coffee for €58.
The restaurant "Les Roses" is open from Thursday to Monday from 18:30 to 22:30. A Sunday lunch menu is also available.
For further information, see www.casino2000.lu and facebook.com/casino2000lu/. The restaurant is reserved for adults, with an ID.