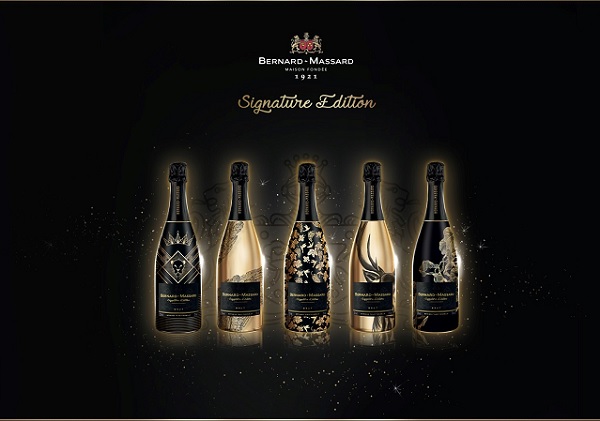 For a number of years, Bernard-Massard has been supporting and promoting artists by offering them the opportunity to dress their creativity with a year-end vintage, presented in a limited edition.
Through an online contest, Bernard-Massard invites budding, seasoned and experienced artists each year to create a personalised label and collector's muselet for his effervescent cuvées.
In 2018, the contest was once again a great success with no less than 350 original entries received it total. To decide between them and choose their favourite creations, a jury and no less than 22,932 people voted online at www.goldentalents.lu. Painters, illustrators, photographers, designers and graphic designers were invited to submit a work respecting the theme "Golden Talents": their creation was therefore mostly gold and black.
Five artists were finally chosen to dress the bottles of the 2018 limited edition, called "Signature Edition":
- Nina Ballerini (Luxembourg)
- Sophie Pirot (Belgium)
- Cornelius Commans (Germany)
- Katja Lindell (Finland)
- Gabrielle Hennion (Canada)
Bernard-Massard's "Signature Edition" will be on sale by the end of the year in most commercial channels in Luxembourg and Belgium. The works of the artists of the 2018 edition will also decorate the muselets of all bottles of 75 cl of Bernard-Massard cuvées marketed in Belgium and Luxembourg during this period.
The general public will be able to participate in a contest organised by Bernard-Massard: a multitude of prizes, among which bottles and works of the artists, will be available to win. To participate, simply grab the code on the back of the capsule on each bottle and register on www.bm2018.lu from 15 October 2018 until 31 January 2019.