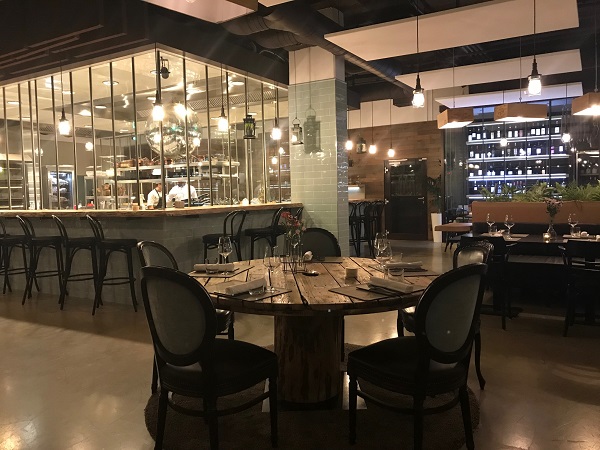 Chronicle.lu got the opportunity recently to visit the restaurant Windsor in Bertrange (5 rue des Mérovingiens), close to Hornbach and Autopolis.
Located in the Bourmicht light industrial zone, in the same block as the Intersport shop, first impressions are that it's an unusual location for a gastronomic restaurant. However, it works, splendidly. It's a busy lunchtime dining venue, and in the evenings it has ample parking of its own, both underground and right outside the door.
The L'Atelier du Windsor was set up by the creative and renowned chef Jan Schneidewind, along with his right-hand man, Sébastien Périé, who manages the running of the restaurant. Passionate about wines and quality food, Sébastien was on duty and greeted us with a friendly welcome. Showing us to our table, he enquired as to our tastes and preferences and helped advise on menu choices and wines to go with the food.
Returning to the issue of first impressions, one has the choice of going straight to your table to be seated, or to first relax over an aperitif in the cosy armchairs in the corner. Throughout, the lighting is subtle and relaxing, with wooden wine boxes used as lampshades. But the centrepiece of the restaurant is the kitchen, enclosed in glass but through which diners can view the creativity and craftmanship of Jan Schneidewind and his team in action ac they prepare your meals. One of the walls also holds a fine wine display.
Overall, the ambience is very relaxed, with a chilled atmosphere emanating from both staff who offer superb attention to detail and the rustic setting which include a number of silver birch dividers.
For the meal, the dining experience, we were served a Cucumber gaspacho with smoked trout before went for the Tomato - organic tomatoes from Munsbach in a fennel buoillon, and Mushroom - chantelles on toast with a poached egg.
To go with the meal we opted for a Luxembourg blended white, La Plume from Schengen, a suggestion by Sébastien, the first such blend we've tasted. It certainly won't be the last.
For the main courses, we opted for one fish dish - sea bass - and one meat dish - Limousin beef with homemade horseradish sauce. To finish off, we had the traditional crème brulée and duo au chocolat. Everything was sublime, but Windsor is not just about the taste of the individual dishes, it is the complete dining experience of the entire package combined.
The A la Carte menu is available at lunchtimes and in the evenings, with the Classic Menu at €46 and the Full Dégustation Menu at €70. The "Speedluch" menu at €19:50.
Son of a family who owned and ran a hotel-restaurant, Jan Schneidewind was introduced to the world of gastronomy and hospitality at a very young age. He developed strong values that have led him to pursue training in this field and to explore the wonders of the culinary world. He opened his first restaurant in Luxembourg more than 15 years ago, and has now a catering service, two restaurants in Bertrange and a third one in Hesperange, which opened on 1 August 2018.
L'Atelier du Windsor opened its doors in 2009, under the name Windsor, and offered a gourmet cuisine. Chef Jan Schneidewind even won the Bocuse d'Or in 2012. Then, in 2015, Windsor reinvented itself completely to become L'Atelier du Windsor. No more fuss, Jan Schneidewind decided to turn to an authentic cuisine that he calls "Cuisine Unplugged": original tasty dishes presented in all simplicity to enhance seasonal products of excellent quality focusing only on taste and emotion. To reflect this change in the kitchen, the restaurant got rid of the unnecessary and moved to a decoration in line with the new cuisine: raw materials in the spirit of a workshop.
L'Atelier du Windsor is open on Mondays from 12:00 to 14:00, Tuesday to Friday from 12:00 to 14:00 and from 19:00 to 22:00, and Saturday from 19:00 to 22:00.
The unmissable features of L'Atelier du Windsor: beautiful pieces of dry, aged meat; tartars: classic or reinterpreted versions; delicious homemade breads.
For reservations, tel: 2639-9325 or www.atelierwindsor.lu