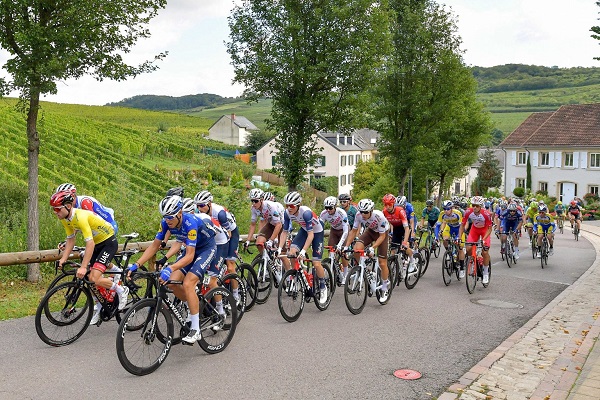 Credit: Serge Waldbillig / Skoda Tour LuXembourg
This year's Skoda Tour Luxembourg cycling race, formerly known as the Tour de Luxembourg, will be held from Tuesday 13 to Saturday 17 September 2022.
Nineteen teams from various countries around the world will take to Luxembourg's roads for the 82nd edition of the country's biggest cycling event. The cyclists will be fighting to take over the yellow jersey from last year's winner, Joao Almeida from Portugal.
The first stage of the race will kick off on Tuesday 13 September 2022 near the Stade de Luxembourg in Luxembourg-Gasperich and will cover 163.8 km with four climbs. Heading towards the north of the country, participants will tackle the ascents of Niklosbierg, Bourscheid and Eschdorf. With 9 km to go, the Côte de Stafelter could already reveal who will be among the best riders in the final classification. Before crossing the finish line near the European school in Luxembourg-Kirchberg, the competitors will have to climb slightly for 3 km.
The second stage of 163.4 km will start in Junglinster on Wednesday 14 September 2022. Riders will first discover the Mullerthal region, before crossing the west of the country to arrive near the town hall in Schifflange. Moreover, a tribute will be paid to Nicolas Frantz, back-to-back winner of the Tour de France in 1927 and 1928, with an intermediate sprint in front of his house in Mamer.
With a distance of 188.4 km, the third stage on Thursday 15 September 2022 will be the longest of this edition of the race and will take riders from Rosport to Diekirch; the finish line is near the football stadium in Diekirch. Three climbs will prove decisive: Um Knupp, 60 km from the finish line, as well as the steep slopes of the Héndelbierg and the Huelewee on the final course of 20.6 km.
The bicycles will need to be changed on Friday 16 September 2022 ahead of a 26.1 km long time trail. The route will start at the Esplanade in Remich, climbing through the vineyards to the edge of Schengen, before following the Moselle river to return to Remich for the stage finish.
The final stage will take place on Saturday 17 Sepember 2022. This stage will once again lead from Mersch to Luxembourg City (a distance of 178.4 km), where the finish line is in front of the Hall Victor Hugo in Luxembourg-Limpertsberg. Challenging clims include Nommern, Schlindermanderscheid, Kautenbach and Misärshaff. With 28.5 km to go, the peloton will enter the final circuit, passing the finish line three times but, in each round, it will have to cross the Pabeierberg with 1 km to go.
Among the nineteen teams this year are six UCI WorldTeams, nine UCI ProTeams and four UCI Continental Teams.
Traffic adjustments are expected during the event.
Further information is available on the event website: https://skodatour.lu/.