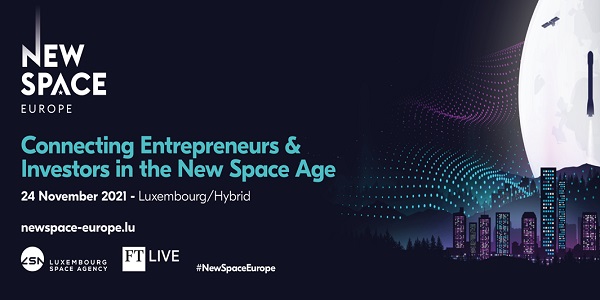 Luxembourg's Ministry of the Economy and the Luxembourg Space Agency (LSA) have announced that the 4th edition of the NewSpace Europe conference is taking place at the Maison des arts et des étudiants on the Belval campus of the University of Luxembourg in Esch-sur-Alzette on Wednesday 24 November 2021.
Organised in the Grand Duchy by the LSA on an annual basis, the NewSpace Europe conference brings together representatives of startups, space agencies, investors and business leaders in the new space economy. It also aims to highlight the contribution of the space sector for the development of certain land activities, such as agriculture, maritime transport and the automotive sector.
The event will bring together more than 500 participants and will offer a large panel of expert speakers. Luxembourg's Minister of the Economy, Franz Fayot, will deliver the opening speech on global connectivity and the Luxembourg space sector at around 09:00 on Wednesday, followed by the intervention of the Director General of the European Space Agency (ESA), Josef Aschbacher, and the CEO of SES S.A., Steve Collar.
The conference also includes several round tables on various topics such as the use of space applications to improve life on earth, space debris and the management of space traffic or the current investment climate in the space sector as well as risks and opportunities that may arise.
The conference will end with a pitch competition, organised in collaboration with StartupLuxembourg, Luxinnovation and the Space Generation Advisory Council, an organisation with 15,000 members in 150 countries and whose objective is to represent the voice of students and young professionals in the space sector to the United Nations (UN), space agencies, industries and universities.
This year, the NewSpace Europe conference is taking place as a hybrid event. It is still possible to register for free to follow the event online with the code "100NSE_Online_2021". Further information, including registration details, is available on the website: https://newspace-europe.lu/.