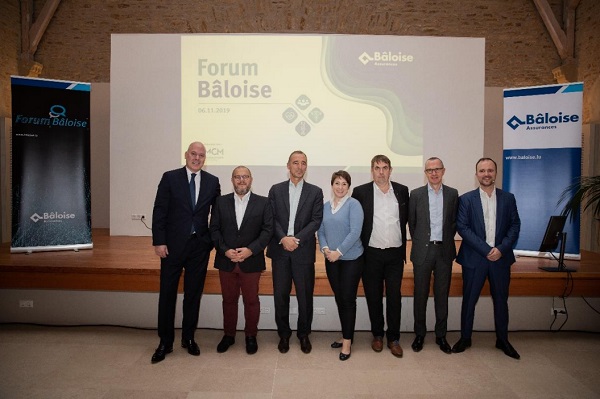 L-R: Laurent Heiles (Bâloise); Fabio Secchi (CMCM); Christian Oberlé (CNS); Virginie Stevens (Pétillances); Hervé Barge (eSanté); Jean-Luc Dourson (BioneXt Lab); Xavier Roblin (Bâloise); Credit: Bâloise Group
On Wednesday 6 November 2019, the Bâloise Group in Luxembourg organised the fifth edition of its annual Forum, which was held this time at the Centre Culturel "Schéiss" in partnership with CMCM.
More than 100 medical and human resources professionals gathered to attend the Bâloise Forum 2019, which focused on the theme of health.
During his welcome speech, Laurent Heiles, Director and Member of the Executive Committee of the Bâloise Group in Luxembourg, explained: "Health is everyone's business, it influences the person at work, in private and it also has an impact on society in general. In fact, good mental and physical health, including good work-life balance, promote entrepreneurial success and well-being".
Real specialists in their respective fields then presented their expertise to the audience. For instance, Fabio Secchi, Director General of the CMCM, presented the advantages of complementary health, whilst Hervé Barge, Director General of the National Agency eSanté, explained the methodology and strategy of the eSanté exchange platform and shared care records.
Virginie Stevens, Managing Partner-Founder of Pétillances, then detailed the importance of psychosocial risk prevention, based on a multidimensional approach, namely individual, collective and systemic responsibility.
For his part, Jean-Luc Dourson, Business Manager at BioneXt Lab, stressed the importance of prevention in the field in health- a topic that has become very important, especially considering that only 3% of the health budget of OECD countries is dedicated to prevention and public awareness actions.
The last speaker at the conference was Christian Oberlé, President Director of the CNS, who presented the national health fund's past and future, focusing on the 2019-2022 strategic axes of the eSanté agency and the importance of the digitalisation and preventive medicine.
Participants continued their exchanges and reflections on this theme around a cocktail dinner served in the "Schéiss" restaurant in Arquebusiers.