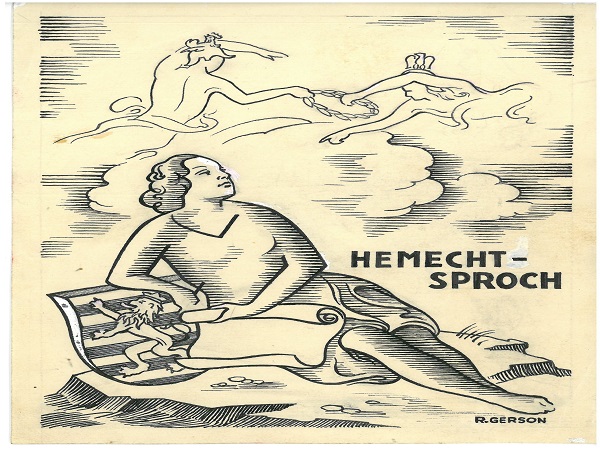 The conference "Language Societies in Luxembourg (1845-1940)" (Sproochgesellschaften zu Lëtzebuerg (1845-1940)) will take place on 19 September 2018 at 19:30 at the Centre national de littérature.
Moderated by Claude Kremer, the work of five teams, presented in the CNL's first online exhibition, will offer the public insight into the prehistory of the Luxembourgish language and explain its developments over time, up until its the Language Law of 1984 and the use of Luxembourgish as a language of integration in the Grand Duchy.
The exhibition begins with the Grand Ducal Institute and its predecessor, the archaeological societies, whose interest lay in the history of the country as well as the dialect of its people. They supported initiatives such as Jean-François Gangler's "Lexicon of the Luxembourg Colloquial Language" (Lexicon der Luxemburger Umgangssprache) and Peter Klein's "The Language of the Luxembourgers" (Die Sprache der Luxemburger).
Moving on to the end of the 19th century, Ons Hémecht was created as a foundation committed to ensuring that Luxembourgish would have an official orthography. Its efforts resulted in the first dictionary translations into Luxembourgish, which is the origin of the 1906 Mundart Luxembourgish dictionary.
In the early 20th century, use of the language was politicised by the national unions and it became a symbol of nationalism. However, the association also encouraged young writers to play a role in developing literature in the Luxembourgish language. This was followed by the inter-war period, during which Luxembourg's linguistic society was committed to bringing together existing work for a research project lasting over 50 years.
Finally, the association created the "Hémechtssproch", which became the first founder of Luxembourgish authors. The initiative was employed for the official recognition of Luxembourgish as a national language and thus laid the foundations for everyday writing in the Luxembourgish language.
The conference shall deal with these elements of the Luxembourgish language's past in more detail.
Entry is free of charge.