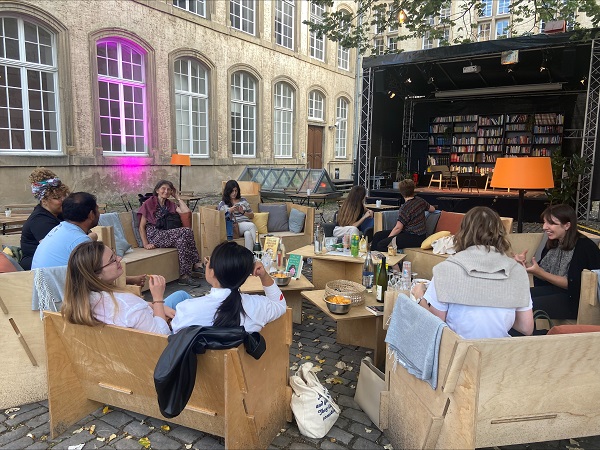 Between the Lines book club gathering; Credit: Mariana Mendes
Chronicle.lu recently reached out to Luxembourg-based book club organisers to learn about their various groups; this week's focus will be on female authors and feminist literature, with "The Feminist Book Club" and "Between the Lines".
The Feminist Book Club's host, Elise Bally, started her book club in September 2022. Since then, she has been selecting "a mix of academic books and nonfiction books directed at a broader audience, on feminism and gender issues". The club currently counts 168 members on meetup and around 60 in their private Facebook group. "The group is aimed at people of all genders who want to broaden their intellectual horizon and become more informed on the historical, cultural and scientific factors influencing gender relationships and how people think about gender."
Elise created the group with the goal of providing "a safe space for women to discuss controversial topics and connect with each other in a positive and supportive way." She noted that she hoped men would also participate, ever since creating the book club. So far only one Luxembourgish male friend of hers came, which she puts down to men being generally intimidated by the label "feminist." Nevertheless, she still has hope that men will eventually venture to a meeting. Her picks are usually scientific books and "challenging and nuanced interpretations of our culture." The last book picked was Bitch: A Revolutionary Guide to Sex, Evolution and the Female Animal by Lucy Cooke, exploring the ways in which scientific biases shaped the way female animals were studied (or ignored) for hundreds of years.
Regular book club meetings gather around four to ten people. Participants usually meet at the Bazaar Bar and Restaurant in Luxembourg-Ville, about once a month. Elise Bally reported having hosted an event at the same location, debating the "manosphere" (which comprises various websites, blogs, and online forums in opposition to feminism). This event attracted a group of around fourteen people (both women and men).
Those interested in learning more about the book club can join the "The Feminist Book Club" group on Facebook or on Meetup.
Between the Lines, for its part, started near the end of 2021. During the first months, Mariana Mendes noted that she focused on creating a community online and offline which now has over 1,000 followers on Instagram. The club has only one rule, which is to read exclusively female authors. Its book choices are diverse, although historical fiction and memoirs have been the most popular genres so far. "We try to pick authors from various communities as much as possible, especially marginalised groups (e.g. BIPOC) and books that talk about the realities of these identities, among other topics (bullying, sexuality, morality, etc)." The organiser emphasised that the club picks thought-provoking, topical books that are also "fun to read".
"The book club is for everyone," Mariana Mendes said, noting that members should be over eighteen. This reading community has fifteen regulars and "new people at every session". The organiser also mentioned that the club is "DNF" (did not finish) and "DNS" (did not start) friendly, people can just come and listen without being obliged to participate to the discussion. While the discussions are usually in English, participants can read the books in the language of their choice.
Depending on the book, the meetings gather up to 20 people. The club collaborates with local businesses (libraries, cafés, bookstores) and the space is therefore often limited. The members meet once a month to discuss the book of the month, which they announce on their Instagram page ahead of time (with a poll for participants to vote for their favourite). The discussions happen towards the end of each month. In addition to the discussions, they also organise events such as book swaps, brunches and picnics. The locations vary, but the meetings usually take place in Luxembourg City or in Esch-sur-Alzette.
The book club will gather during summer break – in July they will be reading Losing It – Sex Education for the 21st Century by Sophia Smith Galer and they will also organise a book swap on 1 August 2023.
Those interested in joining can follow this book club on Instagram and send a message if they have any questions. The club announces all its meetings and events there.