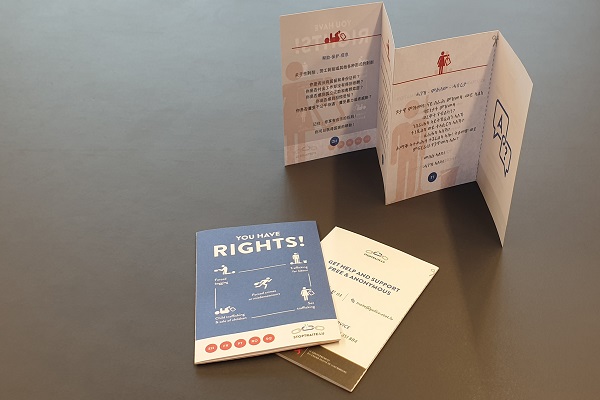 Credit: MJUST
As part of EU Anti-Trafficking Day, which takes place annually on 18 October, Luxembourg's Ministry of Justice and Ministry for Equality between Women and Men have published a multilingual leaflet and set up a new common assistance area for victims of human trafficking.
Human trafficking is considered to be one of the most intolerable violations of human rights. According to United Nations and Council of Europe statistics, human trafficking generates around €32 billion in annual turnover and is the third most widespread form of trafficking in the world, after drug and arms trafficking. Each year, around 2.5 million people, mostly women and children, are trafficked.
Since Luxembourg is not immune to this phenomenon, the authorities adopted several laws and measures early on to prevent and fight this scourge. In 2015, two assistance services for victims of human trafficking were created and approved by the Equality Ministry. SAVTEH of Femmes en détresse ASBL and COTEH of Fondation Maison de la Porte ouverte take care of all victims regardless of their gender, origin and age, offer assistance tailored to the specific needs of each victim and coordinate stationary support. The approach is multidisciplinary as recommended by international, European and regional organisations such as the Benelux.
Following the 2018-23 government coalition agreement, the Ministry of Justice chairs the "Monitoring Committee to Combat Trafficking in Human Beings" which also includes among its members the Ministry for Equality and approved assistance services with their managers. The latter launched the awareness campaign "STOPTRAITE" and decided to join the initiative of the European Crime Prevention Network (EUCPN) concerning a prevention campaign against human trafficking which targets victims and potential victims.
This awareness and information campaign will be continued in the coming months and is now supplemented by a leaflet intended for all victims and potential victims. This leaflet, published in three different languages, was drawn up by the members of the committee and, in terms of its form and content, follows on from previous campaigns. The publication contains information on signs of exploitation and the contact details of the main players in the languages ​​most often identified among victims or potential victims, namely English, German, French, Spanish, Portuguese, Serbo-Croatian, Romanian, Farsi, Chinese, Arabic, Tigrinya, Albanian and Russian. It also contains pictograms to attract the attention of illiterate people.
Next month, SAVTEH and COTEH will also set up a new common assistance area, called "INFOTRAITE". This association allows the two services to join forces for the benefit of victims of human trafficking and strengthen their partnership.