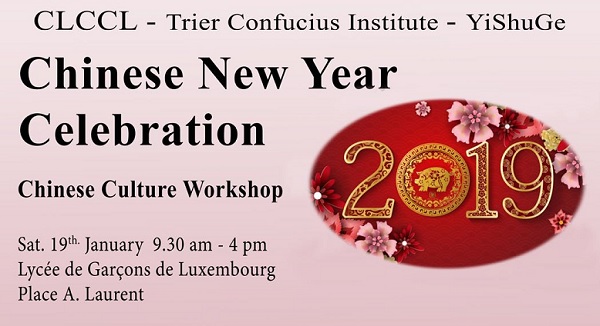 The Centre de Langue et de Culture Chinoises du Luxembourg (CLCCL), the Trier Confucius Institute and the prestigious YiShuGe are holding a Chinese New Year Celebration, including a Chinese Culture Workshop, on Saturday 19 January 2019 from 09:30 to 16:00 at the Lycée de Garcons de Luxembourg (Place A Laurent).
The celebration will include a tea ceremony show, Gong Fu Fan show, Go play, Calligraphy, Origami, Komg Fu, Paper cutting, Guzheng, Chinese Music, Lion & Dragon dance, Chinese Gymnastics and Chinese Painting.
Members of the public are welcome to attend and participate in this Cultural Open Day.
More details on www.clccl.lu