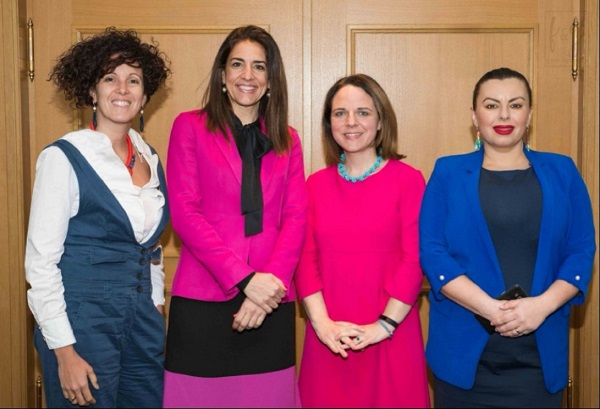 (L-R): Anay Acosta Reyes, Event Moderator; Sonia Hernandez, Director at Vodafone Procurement Company; Corinne Cahen, Luxembourg's Minister for Family Affairs; Jugera Ibrahimi, Chair of BLC; Credit: Gretel Photography
The British Ladies Club (BLC) of Luxembourg hosted its monthly Professional and Entrepreneurial Women event yesterday evening at the DoubleTree by Hilton in Luxembourg-Dommeldange.
The event brought together Corinne Cahen, Luxembourg's Minister for Family Affairs and Integration and Minister for the Greater Region, and Sonia Hernández, Director of Global Supply Chain & Commercial Services at Vodafone Procurement Company in Luxembourg.
The evening raised many questions, including what is being done for women equality and social empowerment, parental leave in Luxembourg, the road to each of the women in becoming successful, the biggest challenges female leaders and high profile corporate female directors face, etc.
Both attendees agreed that there was much hard work behind their success, but once the success was reached, it become a responsibility to continue working even harder to keep it up.
"One most interesting piece of advice delivered during the evening from both invitees to the participants, was disconnecting from any sentiment that makes them feel guilty", explained the Chair of the BLC, Jugera Ibrahimi. "This is a very important point for us all to keep in mind from time to time. It should not be about guilt, it should be about finding your path to success."​