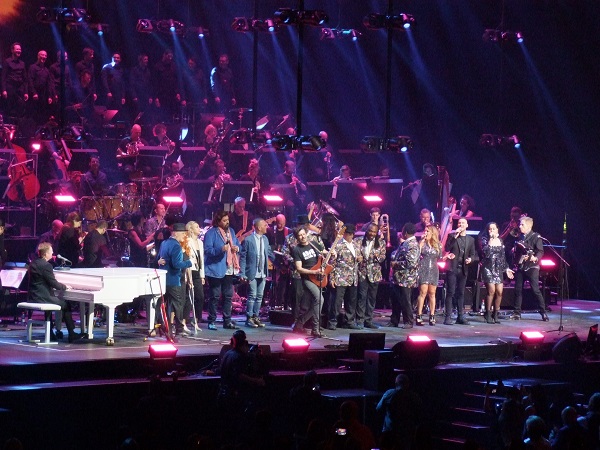 Night of the Proms 2019;
On Thursday evening, d'Coque in Luxembourg-Kirchberg hosted the Night at the Proms which had attracted a sell-out audience of 3,500, many of whom had purchased VIP tickets, meaning that they also enjoyed receptions on-site prior to the 3-hour concert.
The Night of the Proms features a mix of classical music, opera, pop and rock music, as well as dance and comedy on stage, and a number of special guests: Thursday saw Nathalie Choquette (opera), Leslie Clio (pop), The Hooters (rock, from Philadelphia, USA), Al McKay and the Earth, Wind & Fire Experience (soul), Alan Parsons (rock) and John Miles (rock) who is synonymous with Night of the Proms.
With the electric opening giving a flavour of what was to come, the amazing lighting and visual affects combined with the acoustics to produce an unforgettable immersive experience that is unique to the Night of the Proms with its blend of music genres and world renowned performers.
The highlights included Nathalie Choquette singing from Figaro as well as Nessun Dorma, Kalinka and Ave Maria, the Antwerp Philharmonic Orchestra performing Ravel's Bolero and from Swan Lake, Al McKay singing September and Boogie Wonderland, The Hooters performing Time After Time, Alan Parsons performing Eye in the Sky and John Miles performing Queen's Bohemian Rhapsody. To conclude the entertainment extravaganza, all artists combined on stage to perform what is now the unofficial anthem of Night of the Proms, the Beatles' All You Need is Love (formerly it had been Elgar's Land of Hope and Glory).
Night of the Proms is a series of concerts held annually in Belgium, the Netherlands, Germany, Luxembourg, Poland, Denmark and the United States. There are also shows in Spain, France, Austria, Switzerland and Sweden. It is based on the Last Night of the Proms, the last concert of the BBC Proms, a series of seventy or so classical concerts held yearly in the Royal Albert Hall in London, but it is organised independently.
With its first performance in 1985, the Night of the Proms has seen its number of shows increase and the format evolve over the years, with 1999 seeing 36 concerts, with 2003 seeign the first in France and 201§6 seeing the first in Poland. Artists who have performed for Night of the Proms over the years include Joe Cocker, Status Quo, Tina Turner, Meatloaf, David Garrett, James Brown, Roger Daltrey, Mike Oldfield, Robin Gibb, Sinead O'Connor, James Blunt an the Beach Boys.
Led by the Antwerp Philharmonic Orchestra directed by Alexandra Arrieche, and a 24-strong choir, this year's annual tour leg of Germany, etc., started off in Luxembourg, with a different set of singers and performers for the leg involving Belgium & The Netherlands. Next stop Mannheim.
But not before the 150-strong crew (including 20 staff from d'Coque) take down the entire stage overnight over a period of around 3 hours...