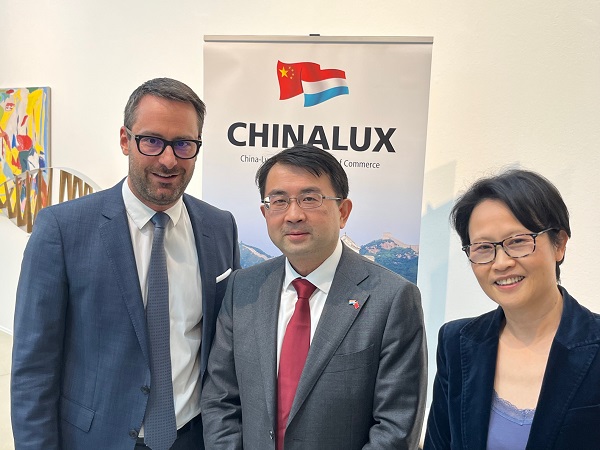 L-R: Jacques Bortuzzo; Ambassador Hua Ning; King Zhujun Xie; Credit: Chronicle.lu
On Thursday 15 September 2022, the China-Luxembourg Chamber of Commerce (Chinalux) held a Welcome Back Members' Cocktail following the summer holidays.
Around 130 people attended the reception, with dignitaries such as Laurent Mosar (formerly President at the Luxembourg Parliament) and Carlo Thelen (Director at the Luxembourg Chamber of Commerce) attending, along with Chinalux members and guests.
2022 is an important year for Luxembourg-China relations as it is 50 years since diplomatic relations started between the two countries.
Chinalux Vice-President, Jacques Bortuzzo, welcomed everyone (in English) to the event and compared the formal part of the event.
Chinalux President, King Zhujun Xie, welcomed members and friends to the event, the first after the summer break, including the Ministry of the Economy. She referred to the special bilateral relationship between the two countries, including cultural exchanges. She referred to the strong business between the two countries, despite the restrictions on travel over the past couple of years. She mentioned the upcoming Chinese Film Festival which will celebrate the 50th anniversary and will take place from 30 September to 3 October 2022.
The recently-arrived Ambassador of the People's Republic of China to Luxembourg, H.E. Mr Hua Ning, was attending his first public event since his arrival in the Grand Duchy. He also spoke in English and started by thanking the Luxembourg Chamber of Commerce as well as Chinalux. He stated that he looks forward to meeting many people and organisations and also referred to the 50th anniversary of diplomatic relations between Luxembourg and China, and mentioned finance, air freight and other business sectors as being important to economic ties between the two countries. He also referred to the Grand Duke attending the Olympic Games in Beijing. He acknowledged the COVID-19 pandemic, the world economy and global fluctuations, emphasising global economic policies and China's role in sustainable and innovative solutions in energy and other sectors, including finance. Finishing off, he talked about green transportation and mentioned the LuxTram in which he stated he wants to ride.
Jacques Bortuzzo welcomed Ambassador as Honorary President of Chinalux and presented him with a certificate to that effect. He thanked Chinalux members and the Chinese Embassy in Luxembourg, as well as the Ministry of Finance, the Confucius Institute at the University of Luxembourg and the City of Luxembourg (Ville de Luxembourg). He mentioned a couple of upcoming events, including the Chinese Film Festival and an ESG event around security risk.
The formal part of the event was followed by a walking dinner.