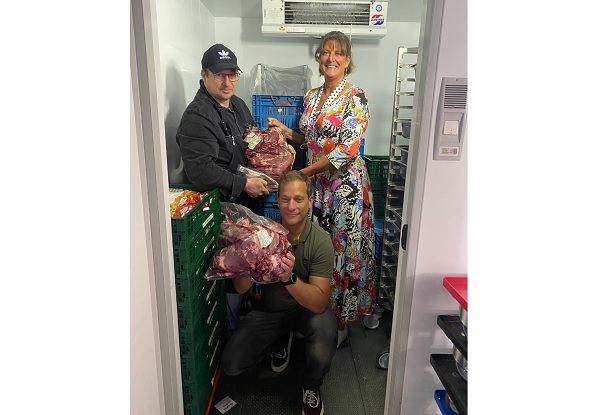 Credit: Stëmm vun der Strooss
Stëmm vun der Strooss, a local non-profit organisation which supports homeless people and vulnerable members of society, has reported that it recently received a donation of 300 kg of meat (beef) for its social restaurant in Luxembourg-Hollerich.
Under the initiative of Nadja Knoth and Sven Ulbrich, fund2seed, together with the Bienenelfe foundation, decided to donate a whole cow with a net meat weight of over 300 kg to Stëmm vun der Strooss.
On Friday 26 May 2023, Thilo Umbach, head chef of Stëmm vun der Strooss' social restaurant in Hollerich, was "pleased" to receive this special delivery, especially in the current situation. He explained: "The numbers [of beneficiaries] have increased drastically. At the moment we serve between 350 to 400 meals a day, so I am grateful for this sustainable and high-quality product from which I can prepare delicious dishes together with the kitchen staff."
Stëmm vun der Strooss noted that the bull in question came from a herd of cattle owned by Bienenelfe, a public foundation which offers young animals from its own breeding for sale and promotes animal welfare-oriented rearing. Bienenelfe founder Denise Ulbrich emphasised the sustainable idea behind the donation: "Unfortunately, not all of our animals find a buyer or animal sponsor. Since we focus on the sustainable use of resources, we wanted to stay true to our philosophy and donate the meat of the bull to those in need. With the help of fund2seed, we can make this possible."
The donation handover took place in the presence of fund2seed representatives and the management of Stëmm vun der Strooss, who were reportedly "delighted" to have found a new committed partner in the form of this finance group. This is already their second joint action, as Nadja Knoth, Managing Director of fund2seed in Luxembourg, explained: "This is not our first cooperation with Stëmm vun der Strooss. Last December, we already had the opportunity to help with the food distribution at the Christmas party and to donate aprons. We were able to experience how grateful every single person was and what great work the Stëmm vun der Strooss team does every day. Many of the needy depend on the offer of a daily warm meal. But with our campaign, we don't just want to meet the need, we also want to provide a moment of enjoyment in an otherwise rough everyday life."
Fund2seed is a privately owned German-Luxembourgish group of companies dedicated to charitable goals and meaningful financial market transactions. The Bienenelfe foundation is regionally rooted in Rhine Hesse (Rhineland-Palatinate, Germany) and follows ecological and economically sustainable principles.
Stëmm vun der Strooss expressed its gratitude to fund2seed and Bienenelfe foundation for this donation and said it looks forward to further joint projects in the future.