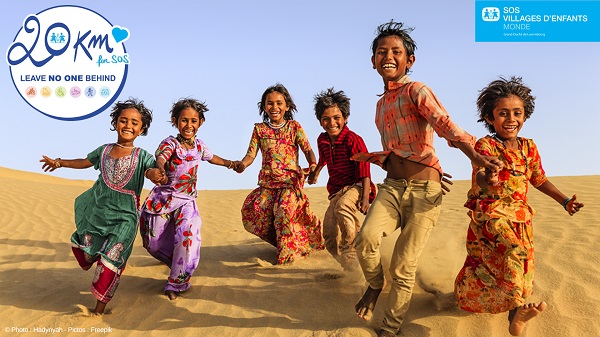 Credit: SOS Villages d'Enfants Monde
From 1 to 30 June 2023, Luxembourg non-profit organisation SOS Villages d'Enfants Monde will launch the third edition of the crowdfunding campaign 20 km for SOS.
20 km for SOS is a solidarity challenge to support vulnerable children across the world. Its target: set a distance of 20 km or more and rally one's family, friends and/or colleagues to sponsor each kilometre accomplished with €5. There is no category or required level; the challenge is open to everyone. It can be done alone, in groups of two, three or more, with family or friends, in one go or split over time. It can also be done rollerblading, riding a scooter, cycling, running or by any other means.
The goal is to create joyful moments and allow underprivileged children supported by programmes of SOS Villages d'Enfants Monde a moment of joy as well, under the slogan #LeaveNoOneBehind.
SOS Villages d'Enfants Monde is currently involved in development programmes in West Africa (Benin, Guinea, Niger, Senegal) and Uzbekistan, and in the fields of emergency and resilience in the Central African Republic, Colombia, Ethiopia, Madagascar and in Ukraine and refugee hosting countries.
Further information is available on the challenge page. Interested individuals are invited to sign up and collect donations on the platform givengain.com. Those signing up will receive a participant kit.