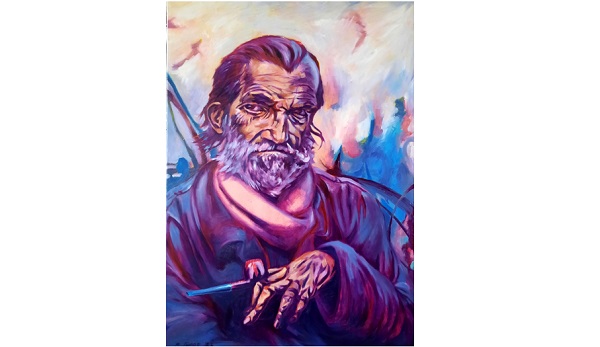 Raphael Tanios' painting "Albert", oil on canvas; Credit: Stëmm vun der Strooss
Luxembourg-based artist Raphael Tanios has decided to collaborate with Stëmm vun der Strooss, a local non-profit organisation that supports people experiencing homelessness and other vulnerable members of society, by offering to donate proceeds from the sale of one of his artworks.
The proceeds will be used to finance part of the salaries of twelve people employed by Stëmm vun der Strooss. As part of its programme to reintegrate the long-term unemployed, cooks, production assistants, drivers and secretaries contribute their expertise to the organisation's eight locations.
As part of the "Memento" exhibition of the Printemps du Cercle Artistique Luxembourg, the artist Raphael Tanios recently received the "Jeune Talent 2023" prize for his portraits in oil on canvas. By connecting the world of art with the world of the homeless, Raphael Tanios aims to support people affected by precarious living conditions.
The painting in question, "Albert", is a tribute to a person who decided to withdraw from society and live on the streets. Adalbert (Albert) Boros, born on 18 May 1931 in Hungary, was an engineer who worked on various buildings and infrastructure. The most famous example is the Grande-Duchesse Charlotte Bridge, also known as the "Red Bridge" (Rout Bréck) in Luxembourg City, completed in 1966. According to urban legend, his wife committed suicide when she jumped off "his" bridge, causing him to withdraw from society. Since the bridge was created, many people have taken their own lives in this way in the capital.
This was one of the reasons why Albert, known by some as Boris, chose to live as a homeless person near the central station in the 1970s. He was proficient in mathematics and liked to help students with their homework if he got something to eat in return. According to Stëmm vun der Strooss, Albert was one of the best known and most tolerated homeless people in Luxembourg. He passed away at the age of 82 in Echternach on 26 April 2013.
Alexandra Oxacelay, Director of Stëmm vun der Strooss, has appealed to any art lover, philanthropist, municipality or company that would like to support a young local artist and disadvantaged people at the same time: "It is a good opportunity to honour an exceptional and respected person like Albert and to highlight the local art scene while supporting the Stëmm."