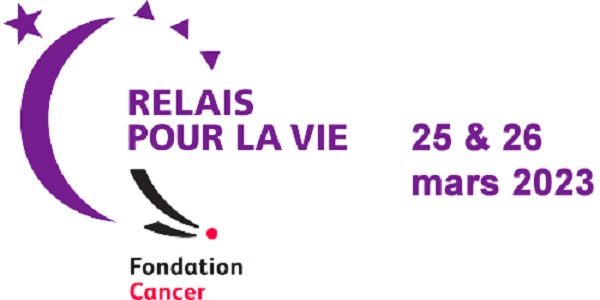 The 2023 edition of the Relais pour la Vie solidarity sports event organised by Fondation Cancer will take place in a hybrid format for the first time on Saturday 25 and Sunday 26 March 2023.
Participants can take part either together on-site at the Coque in Luxembourg-Kirchberg or remotely (connected version), anywhere they choose.
More than 11,000 participants will walk, run or cycle with the common goal of showing solidarity with cancer patients and their loved ones. More specifically, 250 teams with more than 7,500 participants will gather at Coque this weekend, while at least 210 teams and 3,500 connected torchbearers will participate at the place of their choice, in Luxembourg and beyond its borders. Each team will take turns to pay tribute to a loved one who has left them, to support a person who is facing cancer today and to join forces with the hope of one day living in a world without cancer.
The opening ceremony will take place on Saturday evening at 17:30 (reserved for face-to-face teams); the opening ceremony on Sunday at 17:00 will mark the highlights of the weekend. Whilst registration for on-site participants is now closed, connected teams can still register here. Moreover, the general public is invited throughout Sunday to come and encourage the torchbearers at Coque, take part in sports and recreational workshops for adults and children, visit the Genetics & Pathology Lab and the Petziklink. There will also be the possibility to eat on site.
Dr Carole Bauer, President of Fondation Cancer, commented: "This is my first face-to-face Relais pour la Vie as President of Fondation Cancer and I look forward to meeting the patients and their loved ones, the participants, our partners and our volunteers at Coque to show our solidarity together. I am also impressed by the strong mobilisation of our connected teams. All united, we will relay hope on 25 and 26 March."
The full programme is available online at https://www.relaispourlavie.lu/programme-2023/.