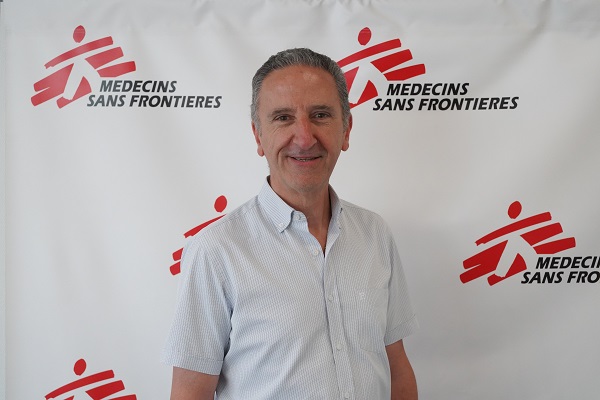 Dr Bechara Ziade, MSF Luxembourg President; Credit: MSF Luxembourg
Chronicle.lu recently sat down with Dr Bechara Ziade, President of the Luxembourg section of Médecins Sans Frontières (MSF; English: Doctors Without Borders), to learn about the non-profit medical humanitarian organisation's activities and priorities in 2022 and its focus areas for 2023.
Dr Bechara Ziade explained that MSF Luxembourg is part of the larger international MSF movement, within which the various sections and branches work together. "It's important for us if we want to be more efficient, be more present on the field, to answer the needs, to join our efforts," he explained, adding that this was why MSF has five Operational Centres (OC); MSF Luxembourg works closely with the OC in Brussels, Belgium. He added that global crises have changed over the years and so too has the emergency response. "Unfortunately, in this world there are some chronic emergencies [which] are very tough to handle," he said, reiterating the need to work together to respond to these crises.
The Luxembourg section of MSF, created in 1986, also leads its own local awareness-raising and fundraising activities. Dr Bechara Ziade emphasised the importance of letting people know that MSF is "still working" and "answering emergencies [...] in places where [others] are not anymore", even if there is a risk involved. At present, 35 employees work within MSF Luxembourg to raise awareness among the Luxembourg population, collect money to finance interventions, oversee volunteers who go on the field and carry out operational research aimed at improving operations. There are also 119 associate members, 80 volunteers and nine members of the MSF Luxembourg Board (voluntary, i.e. unpaid roles); as Dr Bechara Ziade clarified, volunteers deployed to the field receive a contract covering social security and daily expenses. Moreover, over 27,000 active donors in Luxembourg allow MSF to continue its mission. The MSF Luxembourg President described the Grand Duchy as a "wonderful country that answers our needs" and expressed his gratitude that Luxembourg residents had placed their trust in MSF for a long time.
As the MSF Luxembourg President noted, 2022 was dominated by the war in Ukraine, which is "one of the emergencies where all MSF [sections] are present". Already present in Ukraine before the war, the humanitarian organisation developed its response to this new emergency, building on the existing structure, for example focusing on war surgery and mobile clinics. MSF currently has 116 international and 685 Ukrainian employees working in response to the war in Ukraine. The teams have transported approximately 2,700 people by train since February 2022. Whilst MSF staff also try to reach the frontlines, these are "moving all the time" and can be dangerous; as Dr Bechara Ziade stated, "the security of our people is very important also". This is also why only experienced and trained individuals are deployed to the field. Despite these challenging situations, MSF is "flexibile, open, we try to do our best to answer these needs", assured the MSF Luxembourg President.
He added that MSF tried to work together with local people, not just in Ukraine but more generally, also in order to reduce the humanitarian organisation's carbon footprint. Climate action remains a priority for MSF, which is always looking at ways it can "do better". In this context, Dr Bechara Ziade mentioned LuxOR: since 2009, MSF Luxembourg has been using his expertise to develop medical research in the field through operational research unit skills in the Grand Duchy, called Luxembourg Operational Research (LuxOR). The aim is to see how MSF can improve the quality of its missions and better reach its targets.
In 2023, the focus is less on COVID-19 than in previous years, although MSF will remain "open and flexible" this year, ready to tackle challenges as they arise. In addition to monitoring the situation in Syria and Afghanistan, for example, and responding to the emergency in Ukraine, MSF will focus on some "forgotten" missions, such as acute malnutrition in Nigeria, and other "chronic emergencies", for example in Pakistan, Haiti and Yemen.
Nevertheless, Dr Bechara Ziade expressed the hope that one day humanitarian organisations like MSF would not be needed, because there would be no more crises. "I hope that one day we are not needed anymore, but it seems that crises are increasing and not decreasing," he said.
Dr Bechara Ziade stressed the continued importance for MSF, as a neutral and impartial organisation, of private donations, upon which MSF relies almost entirely. Such donations contribute to the Emergency Fund and help MSF to "move quickly and be present where needed as soon possible". MSF Luxembourg also organises training courses for volunteers in the Grand Duchy, reaches out to schools to raise awareness among children of humanitarian work and is involved in partnerships with other organisations in Luxembourg, namely to raise awareness and in turn secure the future of humanitarian work.
Dr Bechara Ziade also spoke highly of his new colleague, Thomas Kauffmann, who was appointed General Director of MSF Luxembourg in September 2022. "For us, it was important to have someone who can unify people," the MSF Luxembourg President said, adding that he and the rest of the Board were "happy" with this choice.