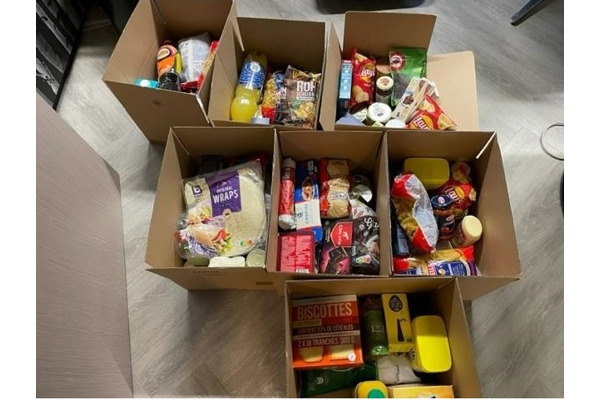 Credit: Stëmm vun der Strooss
Stëmm vun der Strooss, a local non-profit organisation which supports homeless people and vulnerable members of society, has announced that it received several packages of non-perishable food items from FM Insurance Europe (FM Global Group) on Tuesday 29 November 2022.
The donated food items included rice, pasta, canned goods and other products.
As part of FM Insurance Europe's corporate social responsibility initiative, Lucy Smith and Emanuele Spagnoletti Zeuli met Stëmm vun der Stross' communications officer, Bob Ritz, to learn more about the non-profit's activities and needs.
As a result of this meeting, FM Insurance Europe collected the food items, which will be used directly in the kitchen of Stëmm vun der Stross' social restaurant in Luxembourg-Hollerich, which serves an average of 300 meals a day.
Some FM Insurance Europe employees will volunteer at Stëmm vun der Stross' upcoming Christmas party on Wednesday 14 December 2022.