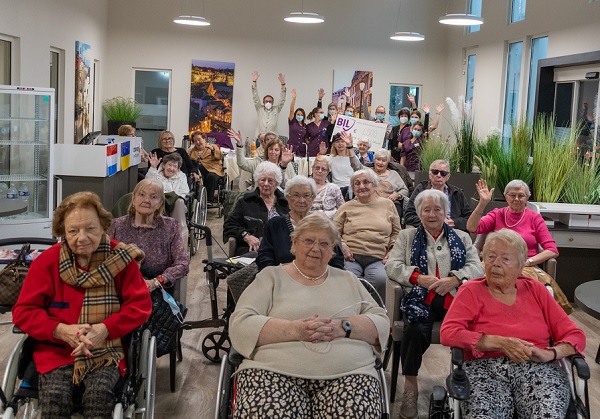 Residents at Les Jardins d'Alysea;
For several years, residents of Les Jardins d'Alysea retirement home in Roeser have been used to expressing their solidarity with people in distress; with the support of a team of dedicated and available educators, residents maintain a strong link with the outside world, while adopting a dynamic approach based on compassion, empathy and mutual aid.
This approach, which also allows residents to continue to feel useful, is also part of a continuity: during their active lives, many of them have already worked as volunteers with various associations such as the Croix-Rouge, the International Bazaar and many more. "Our residents are people who have always wanted to help people in distress, whether at Télévie, associations such as Le Petit Prince, children with cancer, hospitalised children and others", explained Isabelle Wirtzler, Director of the Alysea Gardens.
Continued support for Ukrainian refugees
From the beginning of the conflict in Ukraine and the arrival of Ukrainian refugees into the Grand Duchy of Luxembourg, Les Jardins d'Alysea and its residents have been keen to perpetuate this beautiful spirit of brotherhood. As early as April, the care home contacted the Croix-Rouge to find out about the urgent needs of the refugees. A first stock of furniture, cushions, mattresses and others, generously offered, made it possible to better equip their accommodation.
Today, residents of Les Jardins d'Alysea remain motivated and engaged, especially since some of them experienced the Second World War and the images they see on television bring back painful memories.
It is in this context that the managers and residents of the Jardins d'Alysea presented a cheque for €1,000 to the Croix-Rouge, which was represented by Mrs Perrotey-Torregrossa and Mr Muller, to help Ukrainian refugees in the country. This donation took place on Friday 25 November 2022, during a small ceremony during which various people spoke, including a former resident volunteer at the Croix-Rouge. In addition, the essential missions of the Red Cross, an essential player in the humanitarian sector, were also mentioned.