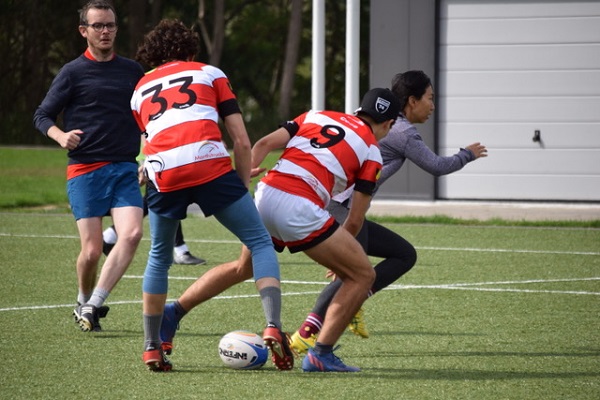 This year's winners, CUBE St Josse, in action; Credit: RCL
The Touch club of Rugby Club Luxembourg (RCL) held its traditional Kick Cancer into Touch (KCIT) rugby tournament on Sunday 18 September 2022, raising €2,000 for local hospice Haus Omega, located in Luxembourg-Hamm.
As the dawn broke over the Cessange heights, 80 players from Luxembourg, Belgium and elsewhere took to the playing fields of RCL. Eight teams ranging in players from internationals to first timers, aged eight to 59 years, took part in this family-oriented day and raised €2000 for this charitable cause.
RCL Club Captain Dan Fahy and Nick Frank reffed the day's 24 games, whilst Joe Lister, Owen Evans and Debbie McDonnell poured pints and grilled Luxembourgish sausages and Gromperekichelcher (potatoes pancakes) from dawn to dusk.
The overall winners were CUBE St Josse from Brussels, who won in a closely fought final against last year's winners BUC St Josse. Other highlights were the RCL Junior Touch team fielding an all girl team of twelve- to fourteen-year-olds and many parents playing with their children.
For further information about playing Touch, contact RCL via email: info@rcl.lu.