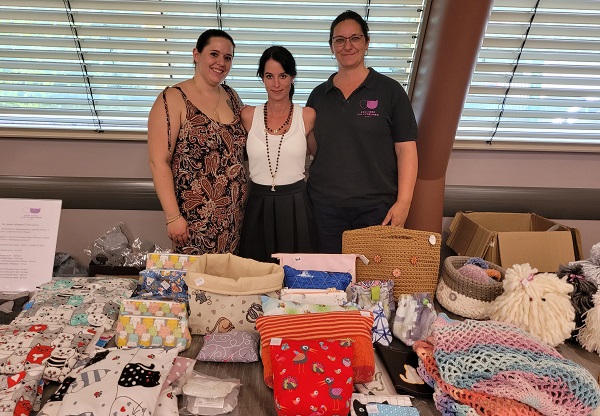 L-R: Jessica Lopes, foster parent for stray cats; Nadja Burg, President of Een Herz vir Streuner; Laurènce Schreiner, Vice President of Een Herz vir Streuner; Credit: Jazmin Campbell
On Sunday 19 June 2022, two Luxembourg-based animal welfare organisations, Een Herz vir Streuner (a heart for strays) and Amiavy Asbl, joined forces to organise a summer market in Centre Nicolas Braun in Hesperange.
The aim of this event was to raise funds for the two non-profit organisations' work supporting animals in need. Een Herz vir Streuner works to help stray, abandoned, sick or injured cats in Luxembourg. The team's work primarily centres around the "trap-neuter-return" concept: they often catch stray cats, arrange a veterinary check-up and, if needed, neuter and microchip them before releasing them back into the wild. In the case of ill or injured cats or kittens whose mother cannot be found, the non-profit cares for them and finds them foster homes until they are better again and / or ready to move into their new forever homes.
Similarly, the mission of Amiavy Asbl is based on four permanent pillars: helping shelters and animals abroad, rehabilitating laboratory dogs, raising awareness and helping dogs in need in Luxembourg as well as finding them a new adoptive family, if needed. The team also collects donations and organises events aimed at supporting these animals.
One such fundraising event is the market co-organised by Een Herz vir Streuner and Amiavy Asbl. As Nadja Burg, President of Een Herz vir Streuner, explained to Chronicle.lu, the two organisations have been working closely together and organising such markets since the creation of Een Herz vir Streuner over one year ago. Moreover, the two teams have known each other for more than a decade. Whilst their daily tasks differ somewhat (one focuses more on cats, the other more on dogs), both non-profits are working for the same cause: to help animals in need.
A wide range of handcrafted animal-themed and other goods were on display at this most recent market, from special olive oils (some had chili, others were made with lemon or herbs), liquor, sauces and chutneys to purses and cushions and wooden kitchen roll and toilet roll holders in the shape of cats and dogs. Pet food and treats were also on sale. Refreshments were available for purchase inside, whilst visitors could indulge in a vegan burger and chips outside the centre.
The proceeds go entirely towards animal welfare, including veterinary and neutering costs. Ms Burg indicated that enough had been raised to cover the costs of neuter surgery for 60 stray cats, to name but one example.