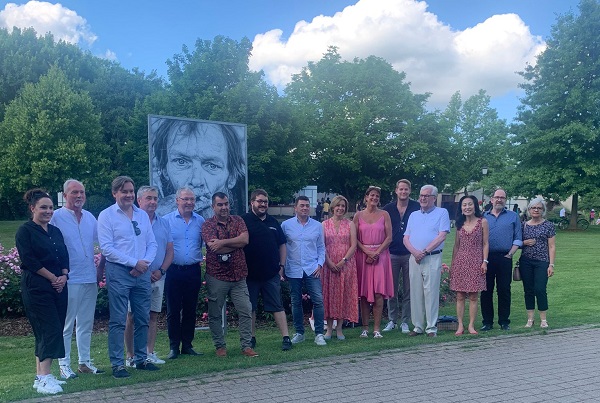 Credit: Stëmm vun der Strooss
Saturday 11 June 2022 marked the opening of the photographic exhibition "Liewen op der Strooss" (life on the street) in the municipal park of Hesperange.
In the presence of Marc Lies, Mayor of Hesperange, aldermen of the municipality of Hesperange and Alexandra Oxacelay, Director of Stëmm vun der Strooss, guests were given a guided tour to admire the photographs.
Photographers Christian Kieffer, Laurent Blum and Guy Wolf, who are respectively behind the various portraits of the homeless, talked about the special character of each picture and the stories surrounding their models.
In their speeches, Marc Lies and Alexandra Oxacelay stressed the importance of highlighting the precarious situation that exists in Luxembourg and the contrasts that are often visible. Diane Adehm, alderwoman of the municipality of Hesperange, drew attention in particular to one of the photos where misery and luxury were mixed. A homeless person is seen pulling his shopping trolley right in front of the shop of a luxury company in the city centre - a symbolic image for a country that is rich and poor at the same time, according to Stëmm vun der Strooss.
The exhibition, which will run from June to September 2022, was created as a result of cooperation between the college of the mayor and aldermen of the municipality of Hesperange and Stëmm vun der Strooss, a local non-profit organisation which supports homeless people and vulnerable members of society. The aim is to bring the expressive faces of the homeless to the fore.
After the success of the first exhibition, "La VIE MORE OR LESS", which honoured the late Canadian-born, Luxembourg-based photographer George Edward Nixon and was organised by Stëmm vun der Strooss and the City of Luxembourg (Ville de Luxembourg - VdL) last December, this time it is the municipality of Hesperange that is offering the photos for viewing in its municipal park.
Alexandra Oxacelay expressed her pride over the continuity of this travelling exhibition and invited all interested municipalities, businesses, schools and private individuals to contact Stëmm vun der Strooss (via tel.: 49 02 60 36 or email: info@stemm.lu) to get involved in this project.