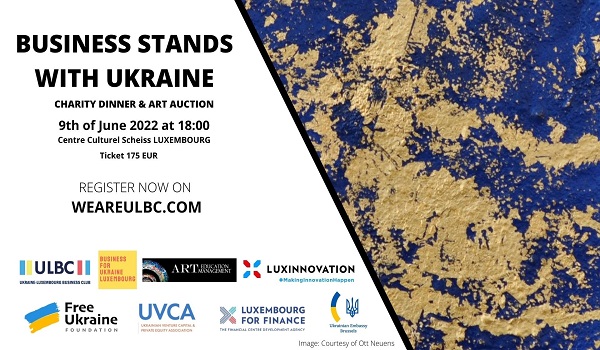 Credit: ULBC
Ukraine-Luxembourg Business Club asbl (ULBC) has announced that it is organising, together with its partners, a charity dinner with a silent art auction at "Schéiss" cultural centre in Luxembourg-Belair (142 Val Ste Croix, 1370) on Thursday 9 June 2022 from 18:00.
The goal of the "Business Stands with Ukraine" charity dinner is to raise money for the benefit of small and medium-sized enterprises (SMEs) and startups in Ukraine which have been affected by the war. The proceeds from the entry tickets, sponsorship packages and private donations will be channelled to ULBC's international partner, the Ukrainian Venture Capital & Private Equity Association (UVCA), which provides aid for the Ukrainian startup community and whose innovative business currently needs support to stay afloat and to continue to support the Ukrainian economy.
The evening will start with an aperitif at 18:00. This event is performance-based and comprises renowned artists from both Ukraine and Luxembourg represented by the Art-Management agency. Throughout the evening, guests will have the opportunity to meet these artists in person and to buy their art works at the silent auction. Their pictures are also available for purchase online at https://www.art-management.lu/charity/june-2022
The evening will continue with the singing of two vocalists of the Taras Shevchenko National Opera and Ballet Theatre of Ukraine, Nataliia Semeniuta and Tetiana Liubymenko, who recently became refugees in Luxembourg.
The winners of multiple international contests in Latin dancing, Renat and Inna Korobka, will go on to demonstrate the passion and braveness of the Ukrainian fight via their performance.
The presenter of the evening is Lisa Burke.
This networking dinner will also host representatives of the government, media and corporate management and will conclude with the announcement of the final amount collected around 20:30.
The price for a single ticket is €175; for two tickets, the price is €300. Tickets for this event can be purchased online at https://www.eventbrite.com/e/327459930467