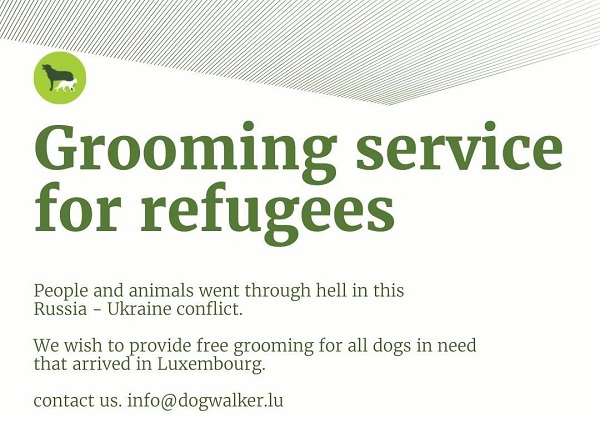 Credit: Dogwalker.lu
Luxembourg dog walking business Dogwalker.lu has launched an initiative aimed at supporting Ukrainian refugees and their pets in the Grand Duchy.
Dogwalker.lu, the first dog walking service in Luxembourg (founded in 2010), is now offering a free grooming service for the dogs of newly arrived Ukrainians in Luxembourg.
Speaking to Chronicle.lu, Luciano Afonso, Owner and Founder of Dogwalker.lu, explained that he had already been considering ways to help Ukrainians arriving in Luxembourg when one of his clients mentioned that they were hosting a Ukrainian refugee with two dogs in need of grooming.
Like many businesses, Dogwalker.lu is still recovering from the economic repercussions of the COVID-19 pandemic and employees still need to be paid. As such, the dog walking service is reserved for paying clients.
However, this has not stopped Mr Afonso from investing his own time in offering a free grooming service for the dogs of Ukrainian refugees. He currently offers this service on Sunday mornings; the next three Sundays are already fully booked.
It quickly became apparent that this was a welcome service for several refugees who are staying with private families but are uncomfortable with the idea of using their hosts' bathtubs to clean their dogs (out of respect for their host families).
In order to be able to meet this growing demand and groom more dogs in future, volunteers are needed. Anyone interested in supporting this intiative, for example helping to wash and dry the dogs, is invited to contact Dogwalker.lu via email: info@dogwalker.lu. Those wishing to avail of this service can also write to this email address.