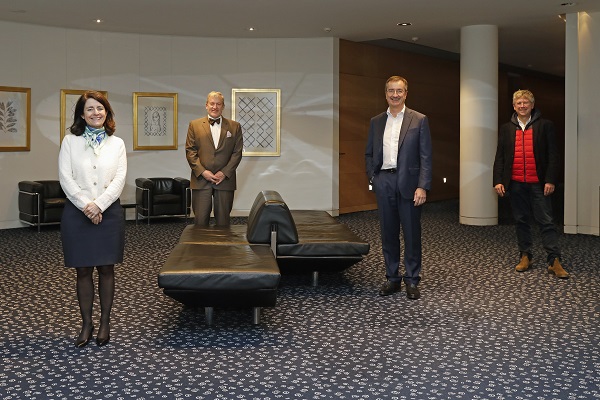 (L-R): Béatrice Belorgey, BGL BNP Paribas; Thierry Schuman, BGL BNP Paribas; André Hoffmann, COSL President, Daniel Dax, COSL General Secretary;
On Thursday 16 December 2021, BGL BNP Paribas announced that it has extended its support for the Luxembourg Olympic and Sports Committee (COSL) for 2022.
The partnership agreement was signed on 7 December 2021 by Béatrice Belorgey, Chair of the BGL BNP Paribas Executive Committee and Country Head of the BNP Paribas Group in Luxembourg, Thierry Schuman, member of the BGL BNP Paribas Executive Committee, André Hoffmann, President of the COSL and Daniel Dax, Secretary General of the COSL.
Upon signing the agreement, Béatrice Belorgey welcomed the partnership, which underlines BGL BNP Paribas' social and sporting commitment in Luxembourg.
André Hoffmann emphasised how crucially important having a partner such as BGL BNP Paribas by its side is for the COSL in order to promote and encourage sport and sportsmen and sportswomen in Luxembourg and abroad.