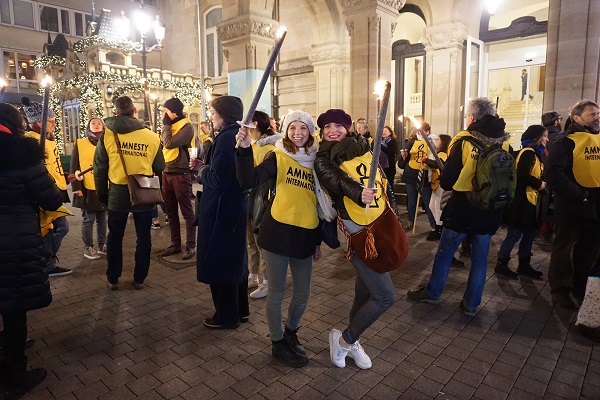 Credit: Amnesty International Luxembourg
Amnesty International Luxembourg has announced its decision to cancel its traditional torchlight parade scheduled to take place in the capital this weekend amid safety concerns.
Due to the violence of recent protests and the suspension of gatherings in the city centre for this coming weekend, Amnesty International Luxembourg is replacing its traditional, family-run torchlight procession with decentralised action. The non-profit organisation has called on everyone who wishes to express their commitment to human rights and show their support for the "Write for Rights" campaign to step outside their front door holding a lit candle on Friday 10 December 2021, on the occasion of International Human Rights Day, at 18:00.
Participants are invited to take a picture of themselves taking part in this initiative and post it to social media, tagging Amnesty International Luxembourg (Instagram: @amnesty_luxembourg, Facebook: @amnestyluxembourg, Twitter: @AmnestyLux) or send it via email to e-mail@amnesty.lu. The Amnesty team will then share all the photos to show this peaceful mobilisation in Luxembourg.
"We bitterly regret that our own right of expression and demonstration is today limited by other groups or individuals who have announced that they are taking advantage of our traditional torchlight march to carry their own demands, while they have many spaces for expression, or by individuals who abuse this right to peaceful demonstration to commit violent acts. This is a form of monopolisation of the public space for expression that we can only deeply deplore, whatever the relevance of their demands", stated Olivier Pirot, Director of Amnesty International Luxembourg. "We are counting on the population in Luxembourg in order to still make a message heard in favour of a more just world and in particular their voice to support the ten human rights defenders in danger that we are highlighting in the framework of our Write for Rights campaign".
In addition to this new candlelight action, Amnesty International Luxembourg has invited itts supporters to participate in the Write for Rights campaign by organising a letter writing evening. The non-profit has created an action kit with all the necessary material to learn about the ten people and groups put forward, write letters to the authorities and send messages of solidarity. This kit can be ordered free of charge via email:
activisme@amnesty.lu
. Those interested can also participate digitally, for example by sending tweets to the decision makers concerned or by signing the ten petitions on the campaign website:
https://write4rights.amnesty.lu/
.
Beyond their individual circumstances, the people in the Write for Rights campaign illustrate structural problems and widespread human rights violations. This year, for example, Amnesty International is supporting Belarusian teenager Mikita Zalatarou, who was tortured in prison, Mexican women's rights activist Wendy Galarza, who was shot twice by the police, and Guatemalan environmentalist Bernardo Caal Xol, who was wrongly imprisoned.
"We are living in a period full of historical challenges, such as the COVID-19 pandemic, but also climate change, migration crises or the development of little or poorly supervised digital technologies. Challenges that humanity can only overcome in a united and supportive manner. Faced with this, we must therefore commit ourselves together for a more just world", concluded Olivier Pirot.