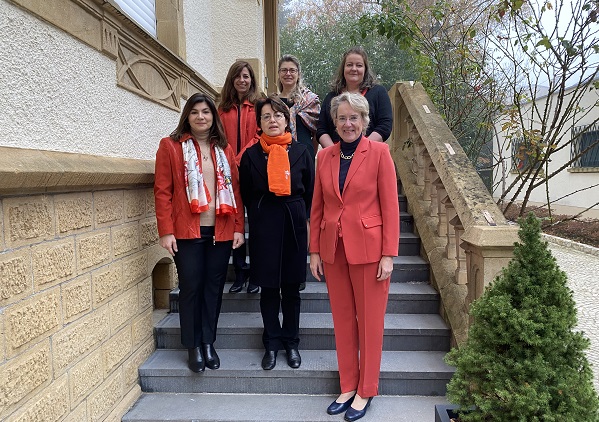 (Above) LLAC Founding Members; Credit: LLAC
To mark International Day for the Elimination of Violence against Women, held annually on 25 November, the new Luxembourg Ladies Ambassadors Club (LLAC) visited the local non-profit organisation Femmes en Détresse on Thursday morning.
The LLAC was recently founded on the initiative of the Austrian Ambassador to Luxembourg, Melitta Schubert, who explained: "The Luxembourg Ladies Ambassadors Club is an initiative aimed at supporting women of all walks of life. Today, we could experience first-hand what can be achieved when women work together and support each other. I am very honoured to be able to support Femmes en Détresse together with my fellow ambassadors and my team".
Femmes en Détresse, headquartered in Luxembourg-Gare, has been supporting women fleeing violence and abuse since 2004.
The Austrian, British, EU, French, Romanian and Turkish representatives met with the team on-site to learn more about the association's important work and highlight women's issues in Luxembourg. The LLAC made a financial donation and gifted particular food items which Femmes en Détresse had requested, as well as toys for children and seasonal treats to ring in the Christmas season.
The ambassadors and representatives praised the nationwide "Lëtz Say No to Violence against Women" campaign and further discussed their respective countries' roles in promoting gender equality, women's safety and the prevention of gender-based violence.
The British Ambassador to Luxembourg, Fleur Thomas, commented: "Having lost a close family member to domestic violence, women's safety is an issue incredibly close to my heart. We never know what goes on behind closed doors and it is imperative that women have a refuge from violence, wherever they are. I am grateful to the teams at Femmes en Détresse for creating a safe space for women and children escaping violence at home".
The founding members of the LLAC are Ambassador Melitta Schubert (Austria), Ambassador Fleur Thomas (Great Britain and Northern Ireland), Ambassador Alexandrina-Livia Rusu (Romania), Ambassador Fazilet Dagci Ciglik (Turkey), Ambassador Claire Lignières-Counathe (France) and Anne Calteux (Head of Represenation of the European Commission in Luxembourg).