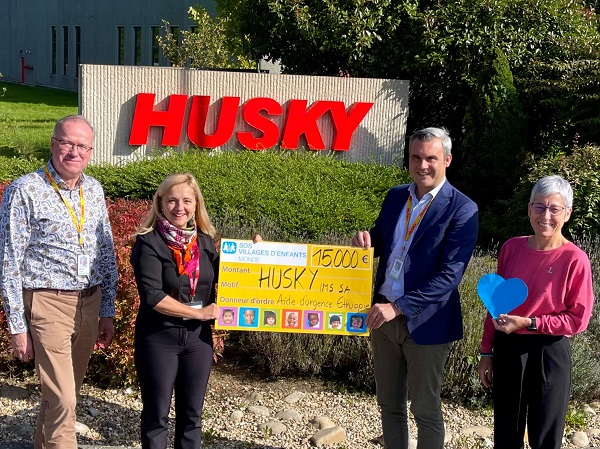 Sophie Glesener and Aurélien Bastien at cheque presentation;
The management of Husky Injection Molding Systems S.A. Luxembourg have presented a cheque for €15,000 to the SOS Villages d'Enfants Monde charity: this sum will benefit the emergency aid programme set up to help victims of the recent crisis in Ethiopia.
The company's involvement alongside SOS Villages d'Enfants Monde dates back to 2007 with an initial financial contribution to equip a school in Socoura, Mali. It was followed by 15 years of solidarity commitment, including 11 through the participation of its employees in the ING Night Marathon Luxembourg, for various projects of community development, education, care and emergency aid. It is always about ensuring the basic needs of children, protecting them from all forms of violence, upholding their rights and empowering their guardians.
For this 15th year of the partnership, Husky Injection Molding Systems S.A. Luxembourg has contributed to an emergency aid programme in Ethiopia. In this country where a large part of the population lives in conditions of great poverty, countless children suffer from malnutrition and famine is rife in several regions. The terrible conflicts facing Ethiopia only increase the number of people in need of humanitarian assistance.
During the presentation of the cheque, followed by a discussion on the challenges facing children following the Covid-19 crisis, violent conflicts and environmental degradation, Sophie Glesener and Aurélien Bastien reaffirmed their motivation to pursue a common path: "We are convinced of the merits of SOS projects which aim to guarantee the most vulnerable children real well-being in a benevolent family environment, protection in crisis situations and a better future".