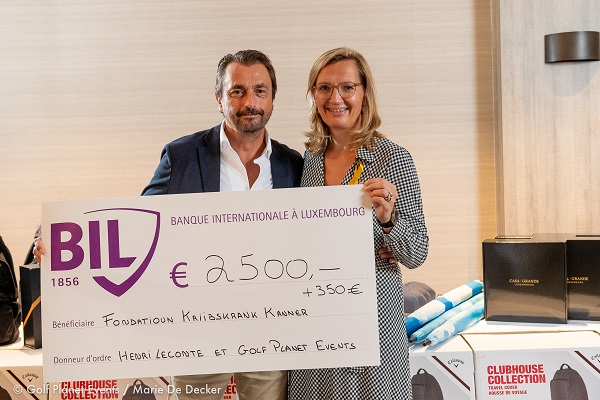 Henri Lecontre presents Anne Goeres, Director of Fondatioun Kriibskrank Kanner, with a cheque for €2,850; Credit: Golf Planet Events / Marie de Decker
On Wednesday 15 September 2021, former French tennis ace Henri Leconte spearheaded an invitational golf tournament at the Kikuoka Country Club in Canach.
Organised by Golf Planet Events in partnership with Henri Leconte, the "Invitational Golf Cup by Henri Leconte & Friends" brought together 60 golfers and fifteen sports and media personalities.
In addition to Henri Leconte, well-known participants included French-Moroccan rugby player Abdelatif Benazzi, French humourist Jason Chicandier,
French journalist Nathanaël de Rincquesen, French handball player Olivier Girault, French tennis coach and former professional player Patrice Hagelauer, YouTube stars and golfers Two Brothers (Tom and Luc Holtzinger), French tennis player and sports journalist Jean-Paul Loth, retired French alpine skier and Olympic medalist Florence Masnada, retired Luxembourg tennis player Gilles Muller, French karate champion Christophe Pinna, retired Belgian tennis player Olivier Rochus,
former Belgian table tennis player Philippe Saive, Senegalese-French handball player turned coach Yerime Sylla, Belgian humourist Bruno Taloche and French humourist Freddy Tougaux.
Many activities, both on the course and around the 19th hole, hosted by Bernard Massard, spiced up the game.
The first edition of the Invitational Golf Cup by Henri Leconte & Friends was sponsored by Car Avenue and several other partners and organised for the benefit of Fondatioun Kriibskrank Kanner, a Luxembourg charity dedicated to the fight against childhood cancer, to which Henri Leconte and Golf Planet Events presented a cheque for €2,850.