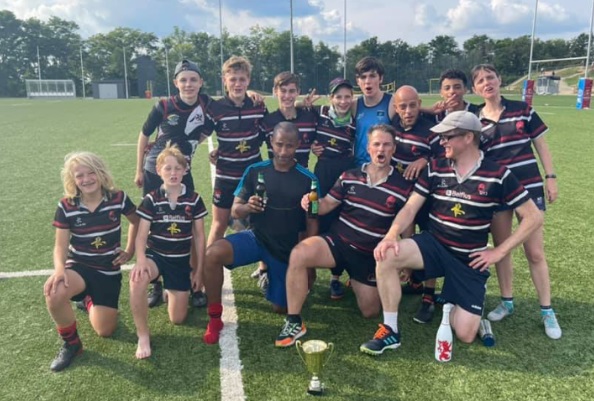 Winners: BUC from Belgium; Credit: RCL
The 19th edition of the annual Kick Cancer into Touch (KCIT) rugby tournament took place on Sunday and raised over €2,000 for the cancer charity.
Held at Stade Boy Konen and hosted by the Touch club of Rugby Club Luxembourg (RCL), this mixed and family-friendly competition brought together eight teams of men, women and children, aged eight to 58.
Belgian team BUC were the deserved winners on a day that epitomised the best of Touch as a sport.
Joe Lister, one of the leaders of the KCIT charity, commented: "It's fantastic to see so many families and friends coming together in sport and raising money for a cause that helps so many people!"
In addition to the competition, there was an entertaining exhibition match for the participants to watch between the Touch Luxembourg M30 / M40 / M50 squad, who will be going to the European championships in 2022, and a KCIT Allstars team featuring Touch stars from Belgium.
Nick Frank from RCL added: "Touch is a great way to get kids playing rugby and we hope that many of those playing today will go on to enjoy Rugby contact or Touch within the club. Of the 80 odd players who took part, probably 40% were under 15, of which at least 50% were girls".
For further information about playing Touch, contact RCL Touch via email: luxembourgtouch@gmail.com. From September, the club is playing every Saturday morning at 10:00 at Stade Boy Konen in Cessange as part of the RCL Ecole de Rugby.
Further details are also available at http://www.touch-luxembourg.lu/ or on Facebook: https://www.facebook.com/LuxembourgTouch/.