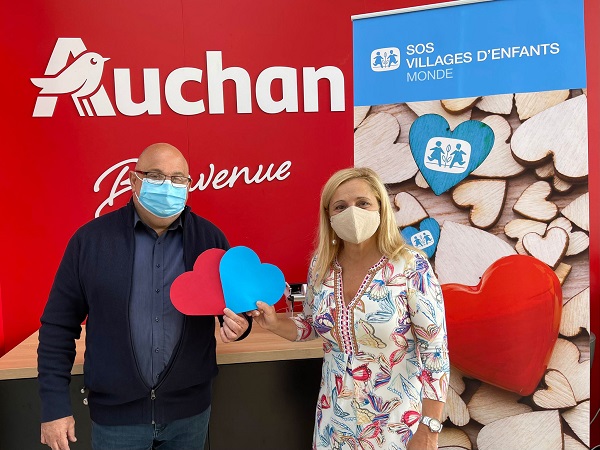 L-R: Marc Gueuzurian, Director of the Auchan Kirchberg; Sophie Glesener, Director of SOS Villages d'Enfants Monde; Credit: SOSVEM
Auchan Retail Luxembourg has announced the return of its major back-to-school solidarity campaign in support of SOS Villages d'Enfants Monde.
Like last year, the three Auchan hypermarkets in Luxembourg (Kirchberg, Differdange and Cloche d'Or) are once again participating in this charity initiative, joined by many shops in the three shopping centres.
From 1 to 18 September 2021, they are asking customers to support an emergency aid programme in Ethiopia that focuses on child protection and nutrition. A large part of the population in this country lives in extreme poverty and countless children are suffering from malnutrition and the famine that affects several regions. The conflicts that Ethiopia faces increase the number of people in need of humanitarian assistance.
As usual, customers will be able to donate during their checkout at the till or by buying one of three solidarity products: a selection of snacks in the Organic department, €1 of which will go to SOS Villages d'Enfants Monde. They will also be able to donate via one of the SOS collection boxes available in partner stores or via a QR code.
To widen the scope of the campaign, which also aims to raise awareness for vulnerable children around the world, customers of the shopping centres and hypermarkets will be invited to display their support with a symbolic heart by posting a solidarity photo on social media.
SOS Villages d'Enfants Monde will be on site on Saturdays with a stand at the Kirchberg (4 September), Opkorn (11 September) and Cloche d'Or shopping centres (18 September).
On Monday 30 August 2021, Sophie Glesener, Director of SOS Villages d'Enfants Monde, participated in the kick-off of the 2021 campaign with Marc Gueuzurian, Director of the Auchan Kirchberg hypermarket. "This partnership allows us to help more children in need around the world and, above all, to ensure their future. We are particularly pleased to be able to contribute at our level to the achievement of the 2nd United Nations Sustainable Development Goal, which aims to eradicate hunger, ensure food security and improve the quality of food and nutritional intakes at a time when hunger in the world continues to increase", emphasised the two partners of this initiative dedicated to the most vulnerable children in Ethiopia.
Further information about the campaign is available online at www.sosve.lu.