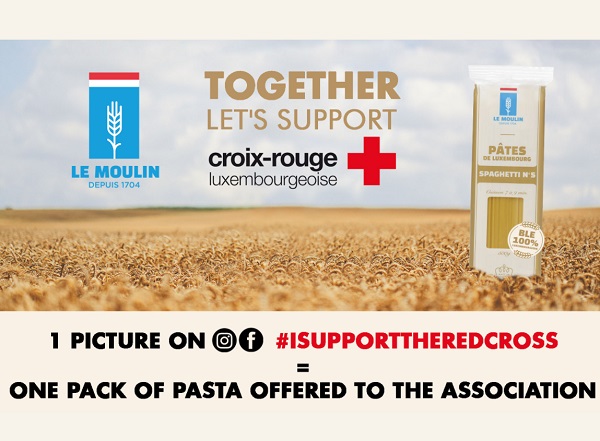 Moulins de Kleinbettingen has announced the launch of its new solidarity campaign aimed at supporting the Luxembourg Red Cross.
From 14 to 22 June 2021, every Luxembourg household will receive a free packet of "Le Moulin" spaghetti in their letterbox. In exchange for a photo of this packet on social media, the local family business has pledged to donate a packet of pasta to the Luxembourg Red Cross, to be distributed in social grocery stores across the Grand Duchy.
For every photo posted between 14 June and 2 July 2021, Moulins de Kleinbettingen will donate one packet of pasta to the association. The goal is to encourage every Luxembourg household to support the eight social grocery stores located throughout the country, enabling people in precarious situations to eat local and healthy products.
The approach of Jean Muller, CEO of Moulins de Kleinbettingen, is simple: "We must be able to provide everyone with healthy, local products made with local raw materials. Promoting our agriculture, promoting short circuits and supporting the proximity that the Red Cross has lived with the country and its inhabitants for more than a hundred years is an approach that is very close to our hearts!"